Samantha McCallister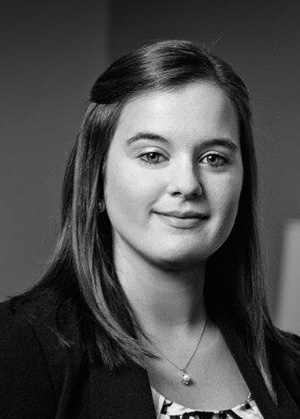 Financial Analyst, Texana Bank
LT Class of 2017
Samantha is a Certified Public Accountant (CPA) working as a Financial Analyst with Texana Bank. Throughout college, Samantha worked at Target Pharmacy. This experience taught her to care about the patient, not just the product. The dedication and strong work ethic developed while working in the pharmacy have enabled Samantha to succeed in her profession and have helped her develop quality client relationships that go beyond just providing a tax return or an audit report. While away from the office, Samantha volunteers with the Texarkana Animal League doing cat adoptions, serves as treasurer for Greater Texarkana Young Professionals and serves on the board of directors for the Texarkana chapter of the Texas Society of CPAs. Samantha enjoys reading, playing volleyball and cooking.
As a transplant to Texarkana, I was truly surprised and inspired by the amazing things I learned about Texarkana through Leadership Texarkana. My mission going forward is to 'spread the love' as a professional, a peer and a patron by promoting everything that makes Texarkana great!
Samantha is dedicated to working through. the Greater Texarkana Young Professionals to attract and retain young professionals to our region with programs and events, and to helping the community by encouraging my friends, family and co-workers to volunteer and give back to Texarkana. Personally, Samantha is also dedicated to supporting local business by attending local events and buying local products. #StopTheLeakage.
Texas A&M University – Texarkana (2010-2013)
Master of Science in Accounting and Bachelor of Business Administration, simultaneously. Graduated Summa Cum Laude.
Texarkana College (2008-2010)
Associate of Arts: concentration in Business Administration
---
What have you learned most about making a difference in Texarkana (or about your opportunity for community leadership) from being a part of Leadership Texarkana?
The most significant thing I learned from Leadership Texarkana is that making a difference in Texarkana begins with me. It begins with each and every one of us. I used to complain about downtown and the lack of things to do in Texarkana just like everyone else. Then I realized, there are so many wonderful activities that are available and so many people trying to revitalize this town, that I just have to look a little harder to find. They exist, and it is my fault that I am not informed. My goal coming out of LT is to try to get those around me to take personal ownership of making sure they are informed about the good things Texarkana already has to offer, rather than just complaining about what we wish Texarkana had.
What does leadership mean to you?
Leadership to me is leading by example. I want to live by a certain set of morals and guidelines so that I can be an example for those around me to see. I would rather take action and hope others see the value in what I am doing and choose to follow me, rather than trying to convince people they should do something. Actions speak louder than words and I choose to lead with actions.
For what community organization or issue or opportunity do you have a passion and invest your time, talent or money?
While there are many causes I like to support periodically, such as Habitat for Humanity and United Way, most of my time is focused on three groups: Texarkana Animal League, Greater Texarkana Young Professionals and the Texarkana Chapter of CPAs.

I am on the board for the Texarkana Animal League. This gives me the opportunity to make a difference in how our community treats animals. To me, and many other people I know, animals are part of the family, not just some afterthought. TAL works hard to match families with pets so that both the family and pet feel like they have found their new family. And while our cats and dogs wait to find their forever family, they are treated as part of the TAL family and shown as much love as possible. It is truly a remarkable group of dedicated volunteers that run that organization, and they inspire me with their commitment.

I am also on the board for Greater Texarkana Young Professionals. This gives me the opportunity to work with young professionals and to guide them and encourage them to excel at their given professions as well as encouraging them to give back to the community.

As a member of the Texarkana Chapter of CPAs, I am able to network with local professionals in my field and to encourage the shared knowledge and continued education in the CPA profession.
If you had one wish and could make a difference of significance in Texarkana (your small corner) what would you do with that one wish and why?
I wish Texarkana had more neighborhood sidewalks. The pathways project is working on having a large walking path that goes across town, and that will be wonderful. But I wish more neighborhoods had simple sidewalks. Texarkana is beautiful and the people are wonderful, so it would be nice to just be able to walk through my neighborhood (safely on sidewalks) just to enjoy the scenery and say hi to my neighbors. I am sure parents would appreciate the safety of sidewalks for their children as well.
What do many people not know about you that you would to share with us?
I am originally from a small town in Indiana. I was the typical outsider who saw Texarkana as a big small town with nothing to do other than drink. Leadership Texarkana completely changed my outlook and now my eyes are open to all the beautiful things Texarkana has to offer.
What are some of your passions and hobbies?
I love to read. I love to travel to visit my family and just for fun. I love to sing, and of course, I love animals. I could watch my cats wrestle for hours!
What do you most love to do in Texarkana?
I love to walk on the beautiful walking paths. I love to attend the downtown festivals/event. The bargain shopper in me is absolutely addicted to the town wide garage sales that happen at Four States and Spring Lake park every year. And, I love eating at the local restaurants. Pecan Point is one of my favorites!
What do you most love about Texarkana, in general?
I love the history and the people. And I can't wait to see downtown shine again so that the history of this town can be on full display. I know several improvements have already happened, and I can't wait to see what comes next.