Texas A&M Texarkana selected by the Mexican government 3 times to partner in a unique educational initiative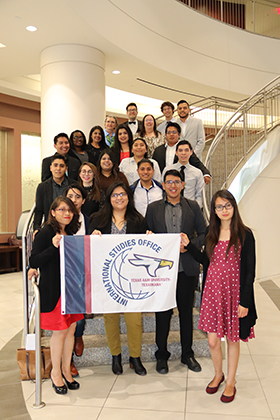 TAMU-T recently celebrated the culmination of their four-week Intensive English Program with a graduation ceremony for 15 students from Mexico on the A&M-Texarkana campus. The students were participants in the Proyecta 100,000 initiative aims to send 100,000 Mexican students to the U.S. and 50,000 American students to Mexico by the year 2018.
While in Texarkana, the students stayed with host families comprised of A&M-Texarkana faculty and staff. Students were immersed in the campus culture and had weekend excursions to downtown Texarkana, Bringle Lake Park and Hot Springs.
"The Proyecta 100,000 initiative increases camaraderie between nations and promotes the expansion of global mindsets for all involved," said Jennifer Felps, director of International Studies. "In the short amount of time that these students were on our campus, they became forever members of the Eagle family and helped grow the intercultural aptitude of our institution."
Congratulations to the students—and to TAMU-T for being a leader in this international endeavor tht enriches the university and our community!