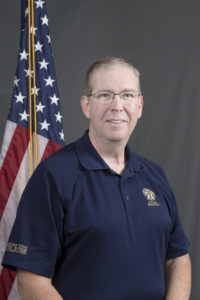 Shawn Vaughn
Public Information Officer
Texarkana TX Police Department
LT Class of 2003
Shawn Vaughn has been in his current position with the Texarkana Texas Police Department for five years Prior to that, he was a captain with the Texarkana Arkansas Police Department; he retired from that agency in 2013 after 26 years of service.
Shawn believes that making a difference in Texarkana can only be made after taking a first step of ACTION. Like so many others, he gets frustrated with the people who seemingly only want to sit on the sideline and complain about the lack of this or the condition of that in our community. His message: "If you truly want to make a difference, you have to get off the bench and actually get in the game. Be willing to take a chance and get your hands dirty."
Shawn is passionate about his involvement in Shop with a Cop and Firefighter over many years through his employment first, with the Texarkana Arkansas Police Department, and now with the Texarkana Texas Police Department. He's seen firsthand the impact that this on the children over the years. He says, "This may be the only opportunity for Christmas that they get that year and I'm so proud to get to play a small part in making that happen."
The Texarkana Texas Shop with a Cop and Firefighter is an annual event where 100 children from our community are paired with an area first responder to go shopping for Christmas presents at Target. The children, ages 4 – 13, are selected by case workers at Texas Child Protective Services based upon need and providee with $120 that they can spend on whatever they want. They have several fundraising events throughout the year to support the program, including a live concert with the Dusty Rose Band during the summer. Texarkana Texas Shop with a Cop and Firefighter is now a 501c3 non profit organization with all donations being tax deductible.
Shawn holds a bachelor degree and a masters degree from Texas A&M University – Texarkana. He is a graduate of the FBI National Academy, the Criminal Justice Institute's School of Law Enforcement Supervision, and Leadership Texarkana. He has been married to his wife, Michelle, for 31 years and they have two grown children.
TO EXPERIENCE SHOP WITH A COP AND FIREFIGHTER FIRSTHAND – join Texarkana's finest at TARGET this coming Tuesday morning, December 4th. Donations still being accepted – here's still time to help make it special for all!
What does leadership mean to you?
Leadership involves being out in front of your organization and leading by example. Being willing to put others' needs before your own.
If you had one wish and could make a difference of significance in Texarkana what would you do with that one wish and why?
I would wish for every child to grow up in a loving and caring family where they don't have to worry about their next meal or being victimized by others.
What do many people not know about you that you would to share with us? What are some of your passions and hobbies?
I have a bucket list item of visiting all fifty states. So far, I've made it to all but one – North Dakota.
A lot of people may not know that I sing and play the piano. I started off as a music major in college before changing to criminal justice.
What do you most love to do in Texarkana?
I love to go out to eat and generally hang out with our friends.
What do you most love about Texarkana, in general?
Texarkana has proven to be a great place to live, work, and raise my family. One of the things I have always liked about Texarkana is that, even though it has grown over the years, it has never lost its small town feel. I can't go anywhere without seeing someone that I know.