Did You Know: Texarkana USA is Hosting a Historic First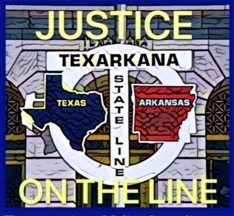 The Supreme Courts of Texas AND Arkansas will be in Texarkana USA this coming week for a historic first gathering of the two bodies–and by best accounts, the first of its kind in the country! (but from first hand report, apparently inspiring others around the country to do the same). Each high court is scheduled to have separate times on local high school campuses to hear oral arguments (with follow-up times for educational sessions with students from each), as well as times with the public on the campuses of each of our three institutions of higher education.

Wednesday afternoon, the combined bodies will be at Photographer's Island in front of the downtown Post Office for a photograph to capture the history making event. Federal courtrooms for each state's justice system are housed in the top floor of the building.

As reported in the Texarkana Gazette, there will also be a Continuing Legal Education course for lawyers conducted around the oral arguments at the Texarkana Convention Center in Texarkana, Texas. The event, presented by the Texas Bar Association and Texas Young Lawyers Association, qualifies for credit by meeting Texas and Arkansas CLE requirements. The event is expected to feature members of state and local judiciaries.

A joint proclamation signed by both Texarkana, Ark., Mayor Allen Brown and Texarkana, Texas, Mayor Bob Bruggeman identifies this historic visit by supreme courts from both states as "Justice on the Line."

The public is invited to be part of the festivities for a luncheon on Thursday, January 31 at Truman Arnold Center on the Texarkana College campus. Purchase tickets.

CELEBRATING OUR SUPERLATIVES!