Did You Know: Texarkana Named One of 50 "Nicest Places in America"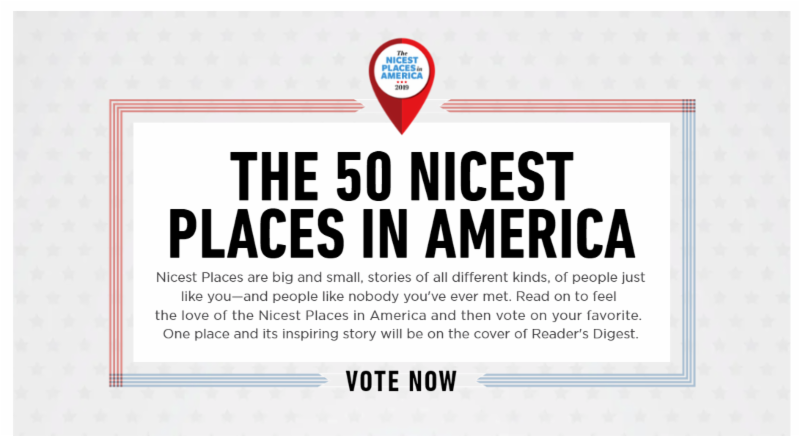 Reader's Digest has named the 50 finalists of its third annual search for "The Nicest Place in America," a national crowd-sourced effort to uncover places where people are kind and treat each other with respect, and Texarkana tops the list in Arkansas and Texas. In an era of cultural and political divides, "Nicest Places" is Reader's Digest's response.
Over a submission period of 31 days, Reader's Digest collected more than 1,000 stories of places across America where people are kind and civility is winning. From these submissions, Reader's Digest editors and a panel of judges selected 50 places – one for every state. Now, America will vote on which of these finalists will get a cover story in the November issue of Reader's Digest magazine. Nine others will also be featured.
"The thing that sets this competition apart from others of its kind is that Texarkana was chosen to represent two states," David Orr, Director of Community and Planning Development for the City of Texarkana, Texas said. Orr is the individual who nominated Texarkana for the award. "In all the other states, one city was chosen, but Texarkana, in a true "twice as nice" fashion, was chosen to represent two."
The complete stories of the finalists, along with the hundreds of other nominees, can be found at rd.com/nicest . To determine the final 10 and the winner, Reader's Digest editors will consider the voting tally along with the input of a panel of judges that includes David Brooks, op-ed columnist for the New York Times; Claire Babineaux-Fontenot, CEO of Feeding America; and Sarah Friar, CEO of NextDoor.
Thanks to Jennifer Tanner of Julie's Deli for forwarding the Reader's Digest contest info – and to David Orr who took the trouble to nominate us! GO TEAM!
Imagine if Texarkana USA was (rightfully) chosen by Reader's Digest as THE NICEST PLACE IN AMERICA! What would that be like for us? Public voting ends on July 21st – so VOTE TODAY!