Four PGISD Students Earned a Rare "Perfect" Score on Advanced Placement Exam.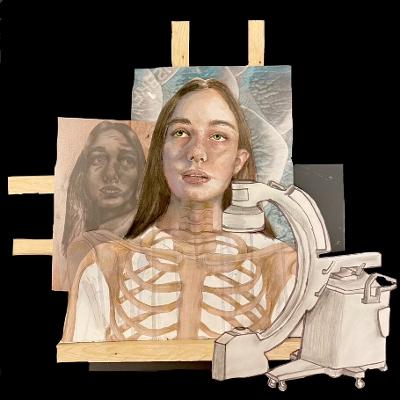 Advanced Placement Exams are scored on a scale of one to five. PGHS seniors Jazmin Hever, Anna Johnson, Leslie Reyes, and Macey Wright not only earned the top score of five, but achieved a perfect score on the college-level Drawing and Design Advanced Placement® (AP®) Exam in spring 2022. These scores are recognized as higher than the existing scoring criteria of a 5, but also achieving every point available on the rigorous rubric. These programs are recognized as receiving Top Global Achievement among millions of portfolio exam entries.

These portfolios were among 343 in the world to earn every point possible on the AP Drawing Exam (top 1.79%) and 197 in the world to earn every point possible on the AP 2D Design Exam (top .53%).

Nicole Brisco, AP Drawing and Design instructor stated, "I am incredibly proud of my students for reaching this level of rigor among students on a global level. This exam along with the 48 offered through the College Board is among some of the more difficult upon which to score the highest score, much less attaining perfection. Over the 25 years I have taught at PGHS, 98% of my students have received 5's on the exam which puts us at one of the highest performing schools not just nationally but globally year after year. These students work diligently over 4 years to perfect their skills that have taken them into highly successful fields in design, architecture, engineering, communication design, fashion, and studio art. They not only receive advanced measures for their honors prerequisite and AP classes on our campus, but also receive full tuition scholarships and credit at some of the most prestigious colleges in the country such as Maryland College of Art and Design, MIT, New World School NY, Cooper Union, and Rhode Island College of Art and Design.

The Advanced Placement Program is committed to ensuring that students have access to the opportunities they have earned. Students who succeed in AP are not only more likely to succeed in college, but have the chance to save a significant amount of time and money by earning college credit or placement.
Colleges and universities around the world receive AP scores for college credit, advanced placement, and/or consideration in the admission process. To learn more about AP, please visit exploreap.org.
****
6 PGHS students took the AP test, all scored a 5
4 achieved a "perfect" score. Only 343 students in the world achieved a "perfect" score.
Jazmin Hever Drawing Portfolio
Anna Johnson Drawing Portfolio
Leslie Reyes Drawing Portfolio
Macey Wright Design Portfolio