Dr. Laura Matteson (LaCroix)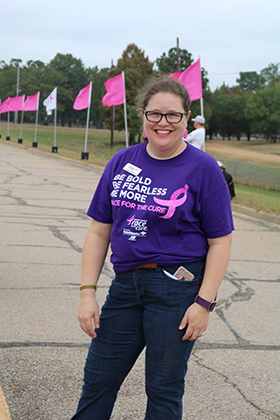 Doctor of Veterinary Medicine, Wisdom Animal Clinic
LT Class of 2000
Dr. Laura Matteson (LaCroix) is a country girl at heart, growing up in DeKalb, Texas. She followed a family tradition by attending Texas A&M University where she received a Biomedical Science Degree in 1994, before becoming a Doctor of Veterinary Medicine in 1998. Dr. Matteson moved back home and joined Wisdom Animal Clinic in June of 1998 and has never looked back.
Dr. Matteson enjoys all aspects of small animal medicine. She especially appreciates that each day is a new beginning with a brand new set of challenges. "No two days are ever the same in veterinary medicine," says Dr Matteson. "The joy of caring for pets and helping people is truly satisfying."
What have you learned most about making a difference in Texarkana (or about your opportunity for community leadership) from being a part of Leadership Texarkana?
Leadership Texarkana taught me (even way back in 1999) there are so many ways to be involved in our community, but you can easily be overwhelmed and lose your impact if you do not focus your time and efforts on the one or two projects or organizations that you truly feel passionate about.
What does leadership mean to you?
Being a good leader is being able to see and encourage others' strengths.Leadership has to be earned by working your way up and through an organization. A good leader is not afraid to take out the trash after leading the annual board meeting. A respected leader is the effective leader.
For what community organization or issue or opportunity do you have a passion and invest your time, talent or money?
Race for the Cure Texarkana/Komen Arkansas and Texarkana Area A&M Club
If you had one wish and could make a difference of significance in Texarkana (your small corner) what would you do with that one wish and why?
Education and health care are silver bullets! Education leads to better choices and hopefully better personal health. As far as my corner of Texarkana, I wish there was more access to low cost preventative health care for the un- and underinsured. If women were able to get screened more frequently, there would fewer and less severe cases of breast cancer.
What do many people not know about you that you would to share with us? What are some of your passions and hobbies?
I love to cook and travel! A combination of a cooking class on a beach, or a mountain, or a villa or island, or really any exotic location would be a fantasy vacation!
What do you most love to do in Texarkana?
Darien and I enjoy going out to eat with friends. We love the variety of locally owned eateries in Texarkana.
What do you most love about Texarkana, in general?
I like that Texarkana maintains a small town feel. I would never survive in a big city like Dallas or Houston for more than a few days at a time. Most of all I love the amazing people I get to work with in my "real job" every day and the hard working, dedicated volunteers that make the organizations in our community a success.
Dr. Matteson is married to Darien LaCroix and has two step-children – Kyle and Erika. Dr. Matteson proudly serves in the Texarkana community as the scholarship chairperson for the Texarkana area A&M Club and on the Race for the Cure committee for the past several years. She and Darien are avid Aggie fans (Whoop!) and look forward to the college football season each year. Dr. Matteson is an evolving cook, lifelong traveler, and a beginning painter.