Top 10 Things to Do in Texarkana Dec. 10-16, 2018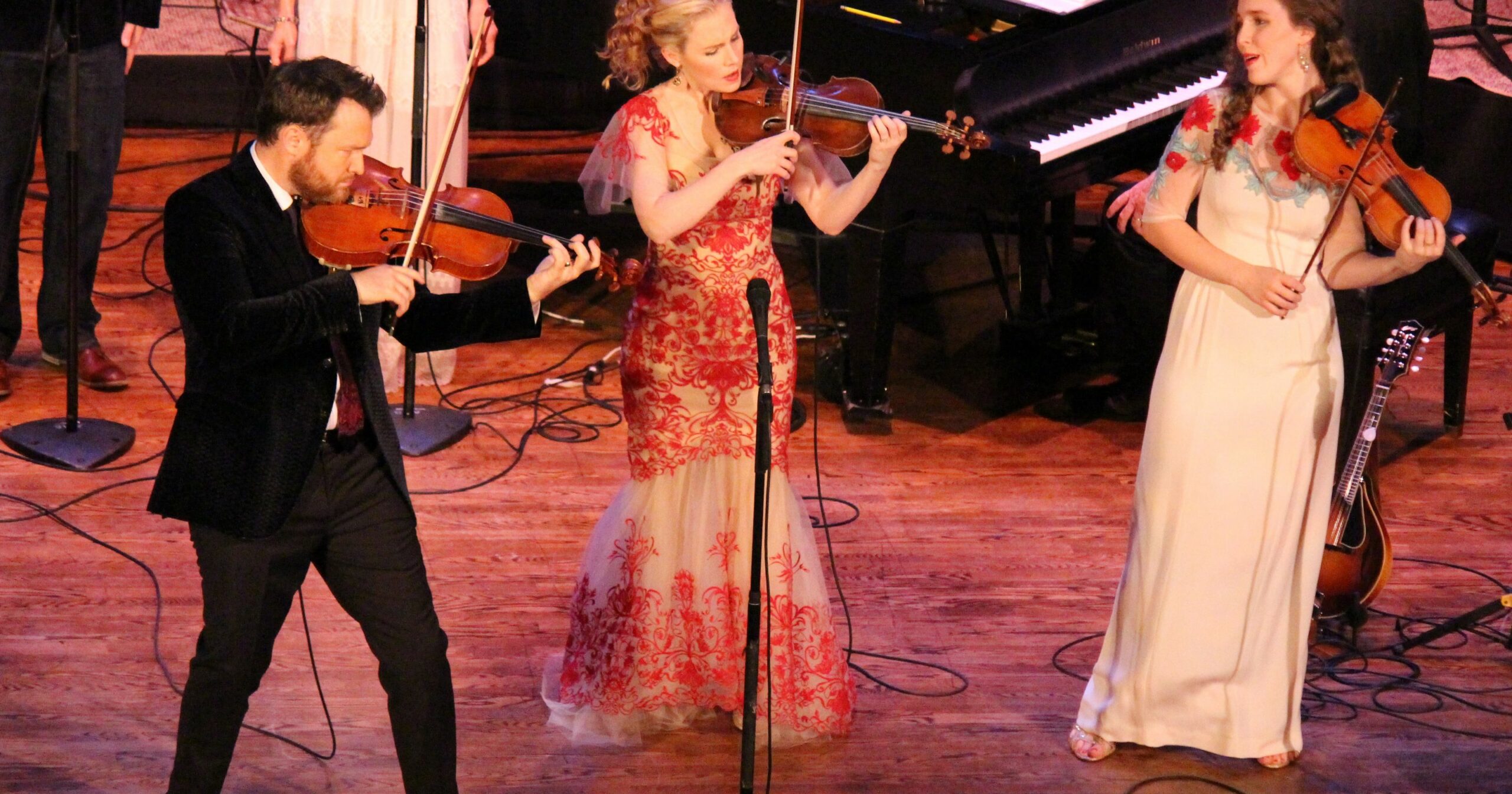 1. Annie Moses Band
Sunday, Dec. 16
First Baptist Church Moores Lane, 10:30 a.m. service. PBS sensation and Emmy Award-winning folk artist Annie Moses Band are bringing their Christmas cheer to Texarkana with Christmas With The Annie Moses Band as part of the services at First Baptist Church. The acclaimed classical crossover ensemble performs stunning arrangements of holiday favorites. Strings, harp, and soaring vocals take the stage to re-imagine classic melodies and to debut originals that are sure to become classic. From the electrifying rhythm of "Carol of the Bells" to the breath-taking beauty of "O Holy Night."
AND CHECK OUT SPECIAL MUSIC AT ALL OF OUR LOCAL CHURCHES –
Bless yourself – go listen – friends and neighbors have been practicing for months to share it with you.
and don't miss…
2. Tuesday, Dec. 11
Farewell Reception to Honor TC President James Henry Russell
Texarkana College Truman Arnold Center, 11 a.m.-1 p.m. Come and go – with remarks at 11:30 a.m. Wish James Henry Russell well as he departs Texarkana College to take the role of Executive Vice President and Chief Financial Officer with BWI Companies, Inc. in January 2019.

3. See Santa This Week!
Tuesday, Dec. 11, 6-8 p.m. Pet photos with Santa at Central Mall.Every Tuesday evening from 6-8 p.m. in December will be pet night with Santa, so bring out your furry four-legged family members to have a photo made with the big guy himself!
Friday, Dec. 14, 2:30-5:30 p.m. Farmers Bank and Trust, 2900 St. Michael Drive. Come see Santa and his sleigh with treats from the Pop Pop Shoppe.
4. Bring Toys & Share Your Blessings

Thursday, Dec. 13
Family Fun Night at US Pizza Company5-9 p.m. Bring toys and share your blessings! Trophy Case Magazine is partnering with U.S. Pizza Co. in a Toys for Tots Drive! Activities for the kids, pictures with Santa, etc. Bring in a new, unwrapped toy during the event and receive a free 10″, one-topping pizza. Santa will be arriving in style! Take in a new, unwrapped toy between now and Dec. 13th to U.S. Pizza Co. and receive a free order of appetizer breadstix. Learn more.

Bring toys by Friday, Dec. 14
Healthcare Express Drive to Benefit Domestic Violence Prevention
Bring a new and unwrapped toy to any HealthCARE express location by Dec. 14! Learn more.
5. Wednesday, Dec. 12
Tenth Annual Seniors Day Out
9 a.m.-2 p.m., City of Texarkana, TX – Southwest Center, Parks & Recreation Department. Christmas entertainment and games, music and dancing, giveaways, health screening and more for ages 60+. Free lunch to first 100 senior citizens to sign in; those who bring a gift for a child will receive two additional door prize entries.
6. Thursday & Friday, Dec. 14-15
Friends of the Library Book Store
10 a.m.-2 p.m., 320 West Broad Street. Half-priced books – all proceeds benefit Texarkana Public Library. Learn more.

7. Saturday, Dec. 15
Elks Hoop Shoot
The SW Center hosts the Texarkana Elks Lodge Hoop Shoot for boys and girls ages 8-13. Free and begins at 8:00 AM. Registration forms are at the SW Center. Prizes for all the winners! One boy and girl from each division will be eligible to progress to the State level. The 2019 Hoop Shoot National Finals will take place on April 27, 2019, in Chicago. For more information call 903-798-3978.

8. Saturday, Dec. 15
1950s Game Night
2-3 p.m., TMS Discovery Place. Take a step back in time to experience the fun from the 1950s. TMS members free; small fee for public. Learn more.
9. Friday & Saturday, Dec. 14-15
Shop Local This Holiday & Enjoy the Music of the Season
Central Mall, near Chick-fil-A: Instrumentalists and vocalists scheduled throughout the week, with Hendrix Trio at 6:30 p.m. on Dec. 15. Learn more.
10. Throughout the Week
Schindler's List Remastered

Multiple showings at Cinemark Theater. To commemorate the 25th anniversary release of Steven Spielberg's masterpiece "Schindler's List," one of the most significant endeavors in the history of cinema, Universal Pictures has re-released the film with picture and sound digitally remastered for limited showings in theaters across the United States and Canada. Winner of seven Academy Awards®, including Best Picture and Best Director, this incredible true story follows the enigmatic Oskar Schindler (Liam Neeson), who saved the lives of more than 1,100 Jews from the Holocaust. Spielberg says the re-release could not be more timely. Do not miss this important event. View schedule.