Did You Know? TRAHC's ArtsSmart faculty members are leading the way for educational excellence NATIONALLY!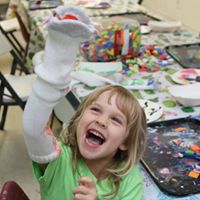 TRAHC's local ArtsSmart faculty are considered SECOND TO NONE enough that they are called upon to lead the way NATIONALLY in teaching and training classroom teachers around the country in tapping the power and potential of the arts and arts integration for producing outstanding educational outcomes for ALL students!
TRAHC's Education Department has not only one, but two National Teaching Artists on their team. Kay Thomas is a visual artist who has provided workshops to students and teachers across the country including Mississippi, Pennsylvania and in Washington, D.C. with the Kennedy Center. Jennifer Unger is TRAHC's Education Director and consults with schools across the country to train teachers to use arts integration and drama strategies. Jennifer has trained teachers in many areas of the country, including California, Indiana, South Carolina and Alaska (where sometimes she works in person and sometimes coaches teachers using a robot!)
CONGRATULATIONS TO TRAHC, ArtsSmart and the SECOND-TO-NONE educational leadership they provide for the NATION! Celebrating our superlatives.