Top 10 Things to Do in Texarkana December 9-December 15, 2019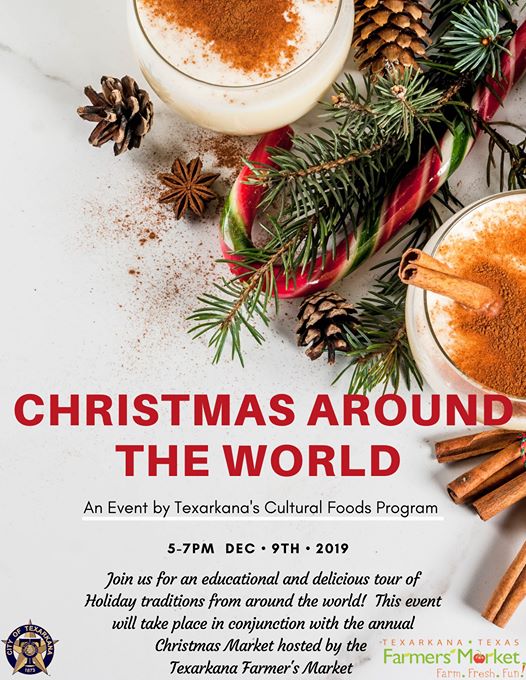 SEE MORE AT GOTXK.ORG/CALENDAR
Including opportunities to Learn – to Share – and MORE!
PUT THE SPOTLIGHT ON YOUR EVENTS: POST YOURSELF!
Build the goTXK.org calendar as Texarkana USA's go to source for all that's going on!
Spotlight on…
1. Main Street Christmas Parade
Monday, December 9
Mark your calendar for the largest Christmas Parade in Texarkana! Learn more.

2. TexRep's Tuna Christmas – at the Stilwell Theatre
Thursday, December 12 – Sunday, December 15
A Tuna Christmas centers on the town's annual Christmas Yard Display Contest, won 14 times in a row by Vera Carp. A mysterious "Christmas Phantom", known for vandalizing the yard displays, has the contestants on edge, and there are several crazy subplots. Two actors play all 20 zany characters, purchase tickets here!

3. Texarkana Symphony Orchestra Christmas at the Perot
Sunday, December 15
A Texarkana tradition! Join the TSO, guest artists Maria Fasciano and Vernon DiCarlo, TSO Chamber Singers, the Texarkana Youth Symphony Orchestra, and Santa Claus, for this Holiday concert for the whole family. Purchase tickets!
And don't miss…
4. Christmas Market and Cultural Foods Event – Kress Gap
Monday, December 9
Join us for our 6th Annual Christmas Market! In addition to many locally crafted and grown items, we will also be hosting a Cultural Foods Program- Christmas Around The World. Come explore our selection of handmade Holiday cookies and drinks, and learn about different Christmas traditions from around the world! Don't forget to hang around and watch Main Street's Christmas Parade, the route will go right in front of our Market! Learn more!

5. Texarkana Regional Chorale – The Glory of Bach
Tuesday, December 10
Join us at Williams Memorial United Methodist Church on Tuesday, December 10, 2019 for the Master's Gloria from the Great Mass in B Minor. Marc-Andre Bougie, Conductor. Free Admission / Donations Accepted. Learn more!

6. Jonesy's Jingle Jog
Tuesday, December 10
Jonesy's Jingle Jog Benefitting Toys for Tots. Entry Fee is one Unwrapped Toy for Donation. There will be an Overall Male and Female Awards. This event is brought to you by The Murry Law Firm and sponsored by Justin Magness State Farm and Magness Financial Group. Learn more!
7. Holiday Cookies with Mom and Me – Texarkana College
Saturday, December 14
Cookies are an important part of the holidays for many families. Create lasting—and delicious— memories this holiday season with our festive cookie class. In this fun, hands-on class, students will be introduced to various types of cookie dough preparations and the professional tips to prep, bake and decorate for the holidays. You'll learn versatile classics: chocolate crinkle cookies, holiday cookies and of course, the all-mighty gingerbread cookies. (You will be taking home cookies)!

This one day class will be held on Saturday, December 14, 2019 from 10:30 am -2:00 pm. Learn more!

8. The Moss Brothers
Saturday, December 14
Mark your calendars to see The Moss Brother's Band LIVE at Scottie's Grill! Learn more.
9. 2nd Annual Gingerbread House Party – Discovery Place
Saturday, December 14
Our Boredom Buster theme this month is Holiday Cheer and what better way to begin than a Gingerbread House Party! Kids will be able to make and decorate their own house and tree with frosting, candies, and imagination.
This event is $3 for children 3 and under and TMS members and $8 for the general public. EVERYONE MUST REGISTER IN ADVANCE! To register click here.
10. Jawbone Rocks Redbone
Saturday, December 14
Texarkana's number one dance band will rock the Redbone Magic House. A very special show, learn more!
Go to goTXK.org/calendar to check out ALL of the LIVE Music and additional events being held this week in Texarkana USA!