Top 10 Things to Do in Texarkana 4/19/2021-4/27/2021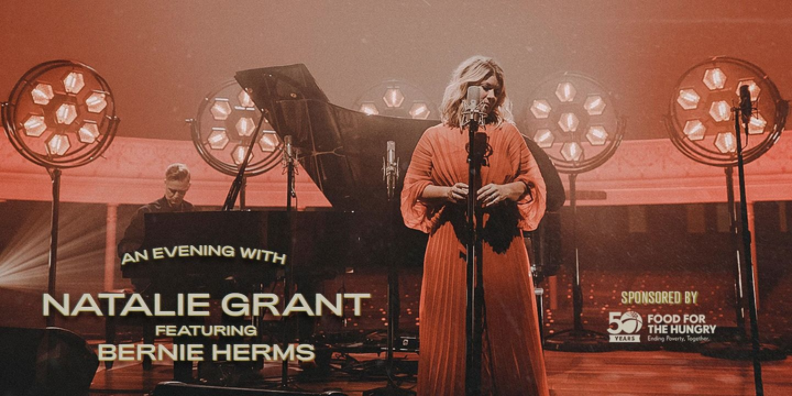 Spotlight
1. Natalie Grant featuring Bernie Herms
Thursday, April 22
On the heels of the most successful album launch of her 20-year career, now comes the long-awaited NO STRANGER Tour, an intimate evening with Natalie Grant and her Grammy®-winning husband, composer/producer/pianist Bernie Herms.Over the past eight months, almost nightly, Natalie & Bernie have encouraged and entertained fans with their piano-vocal performances live on Facebook straight from their living room. Something that started out organically at the outbreak of Covid-19, quickly became a lifeline for Natalie's 1.4 million Facebook followers. The intimate, unpolished, organic videos have now garnered well over 50 million views. Learn more!

2. Buy Tickets for Lunch with Leaders
Tuesday, April 20
Mark your calendars for Lunch with Leaders happening this Tuesday at the Texarkana TX Convention Center! MONDAY IS LAST CHANCE – Limited seats remain! Please text to ensure space is available: 903.306.9219.

3. Clue On Stage
April 22 – 25
Based on the iconic 1985 Paramount movie which was inspired by the classic Hasbro board game, Clue is a hilarious farce-meets-murder mystery. The tale begins at a remote mansion, where six mysterious guests assemble for an unusual dinner party where murder and blackmail are on the menu. When their host turns up dead, they all become suspects. Led by the Wadsworth – the butler, Miss Scarlett, Professor Plum, Mrs. White, Mr. Green, Mrs. Peacock and Colonel Mustard race to find the killer as the body count stacks up. Clue is the comedy whodunit that will leave both cult-fans and newcomers in stitches as they try to figure out…WHO did it, WHERE, and with WHAT! Learn more.


And Don't Forget


4. National Professional Fishing League Tournament
April 22 – 24
The city of Texarkana, Texas and the Texarkana USA Regional Chamber of Commerce will host the National Professional Fishing League (NPFL) tournament April 22 – 24, 2021. The 110 anglers will begin to arrive April 18 for three practice days, and a media day on Wednesday. The tournament will take place at Wright Patman Lake on Thursday, Friday, and Saturday. Weigh-ins will be held each afternoon of the tournament at the Texarkana Texas Convention Center, beginning at 3:30 PM. Learn more!

5. Earth Day
Thursday, April 22
Visit a local park and post a picture using the hashtag #goTXK!
6. CASA Colorful 5K
Saturday, April 24
Join us for CASA's Colorful 5K & Family Fun Run, April 24th at Trinity Baptist Church. Kids Run begins at 8:30, Adult Run begins at 9:00. Early registration ends April 9th. $30 for Adults, $15 for Children. All proceeds benefit CASA & the Texarkana Children's Advocacy Center. Register online here!

7. 1970s Style Show
Saturday, April 24
Join the Texarkana Museums System in celebrating its 50th anniversary! TMS will host a retro fashion show at the historic P. J. Ahern Home, 403 Laurel Street, on Saturday, April 24 beginning at 2 p.m. From bell-bottoms to prairie dresses, guests are sure to be inspired by the trends that defined the decade. Admission is $5 per person. TMS members are free. Reservations are required. Benefitting the Texarkana Museums System. Learn more!


8. Trivia Night at Twisted Fork
Saturday, April 24
Every Saturday Night at 7pm – 1st place: $50 gift card, 2nd place: $20 gift card, and 3rd place: $10 gift card.
9. Walking for Williams
Sunday, April 25
We are beyond excited to announce the 2nd Annual Walking for Williams on Sunday, April 25th! This family focused event will take place outdoors on the church grounds at Williams Memorial, 4000 Moores Lane. The afternoon will consist of a family warmup and walk for all ages, live music, carnival style games for kids, as well as food and refreshments. Contact Williams School office to get your family signed up for this event – 903-838-9517.

10. East Texas Giving Day
Tuesday, April 27
East Texas Giving Day is an 18-hour day of giving that provides critical funding for our area nonprofits. East Texas Communities Foundation is partnering with area nonprofits to give thousands of donors from every community in East Texas a chance to raise funds for local needs. Learn more!

Live Local Music
Head over to the goTXK Community Calendar to take a look at all of the live music happening around Texarkana, USA this week!

Submit YOUR events – virtual or real – to the GOTXK Calendar
Help us all to stay connected and submit your virtual events here!


Go to goTXK.org/calendar to check out ALL of the events being held this week in Texarkana USA!