TXK Small Business Owners – David and Nikki Oliver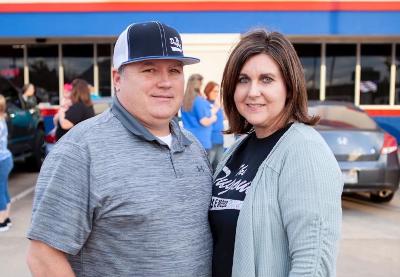 David and Nikki Oliver are leading the way in showing others that it is possible to successfully grow a small business to serve our community! The Olivers opened "The Dugout-Burgers & More" in Texarkana, Arkansas in 2015, at 3801 E. 9th Street.With a dream and a lot of hard work, they have recently been able to expand and increase their seating capacity by 200%! Their hours of operation and their menu have also continued to grow. "The Dugout" employs 48 Texarkana area residents who are all proud to provide friendly service and amazing food. The Olivers and the entire "The Dugout" family are so thankful to the community for their outpouring of support for the past six years: "We would not be able to live our dream and serve others if it was not for their continued support." Thanks for shopping – and eating – local.
Thanks David and Nikki! For Stepping Up to Lead the Way! goTXK!