Top 10 Things to Do in Texarkana December 16-December 22, 2019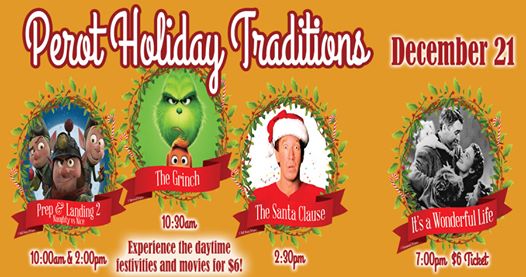 SEE MORE AT GOTXK.ORG/CALENDAR
Including opportunities to Learn – to Share – and MORE!
PUT THE SPOTLIGHT ON YOUR EVENTS: POST YOURSELF!
Build the goTXK.org calendar as Texarkana USA's go to source for all that's going on!
Spotlight on…
1. Perot Holiday Traditions
Saturday, December 21
Join us for the 2nd annual Perot Holiday Traditions! Movies, activities, Santa, food trucks, snow, and MORE! Tickets go on sale Friday, November 15th at 10AM. Learn more.
And don't miss…
2. Christmas Yoga
Monday, December 16
One Love Yoga invites you to come to a Christmas Pajama Yoga Party. We will be playing Christmas music, serve homemade cheesecake, and hot chocolate afterwards. If you want to bring a gift for me to make a bow bring it. And I'll be teaching a snappy bow making lesson. Two ribbon colors in the picture. Merry Christmas from One Love Yoga! Learn more.

3. Meet & Greet ACAC Interim Director/Fundraiser
Tuesday, December 17
Please join us at Redbone Magic Brewing on Texas Blvd on Tuesday, December 17th from 6:30-8:30PM to meet Kayla Tucker, the new Interim Director. Have a great dinner while supporting a wonderful cause. We will have some wonderful items you can purchase for a chance to win – or several chances – and help raise funds for the shelter animals in need. Learn more!

4. Advent Concert Series – First Presbyterian Church, Texarkana, AR
Thursday, December 19
Join us in the sanctuary on Thursday at 12:05 for beautiful music, followed by a light lunch in the Fellowship Hall! Please come and bring your friends. Learn more.
5. Live Nativity
Friday, December 20
Join us at Hardy Memorial United Methodist Church for our annual live nativity event! Learn more.

6. Genevieve Allen Band
Friday, December 20
Mark your calendars to see the Genevieve Allen Band LIVE at Fat Jacks Oyster & Sports Bar! Learn more.

7. DIY Christmas Ornaments – Discovery Place
Saturday, December 21
The 2nd event in our Holiday Cheer Boredom Busters will be DIY Christmas Ornaments. These ornaments will be a great addition to any tree. Kids will be able to create two or our three ornament option; snowman, Christmas tree, or Santa.
This event will be FREE for children 3 and under and TMS members and $5 for the general public. Pre-registration is suggested but not required. To register visit here.
8. Christmas Feeding
Saturday, December 21
Please join the Church Under the Bridge Texarkana in our Christmas celebration!! We will serve a wonderful meal, sing some Christmas carols, and give some gifts of love. Learn more!

9. Parson B and the Part Time Sinners
Saturday, December 21
Mark your calendars to see Parson B and the Part Time Sinners LIVE at Scottie's Grill! Learn more.
10. Hometown Christmas: Victorian Parlor Games
Sunday, December 22
Come by the Ace of Clubs House dining room and play a variety of Victorian parlor games. Admission is $5 and FREE for members. Learn more!

Go to goTXK.org/calendar to check out ALL of the LIVE Music and additional events being held this week in Texarkana USA!