Top 10 Things to Do in Texarkana 7/19/2021-7/27/2021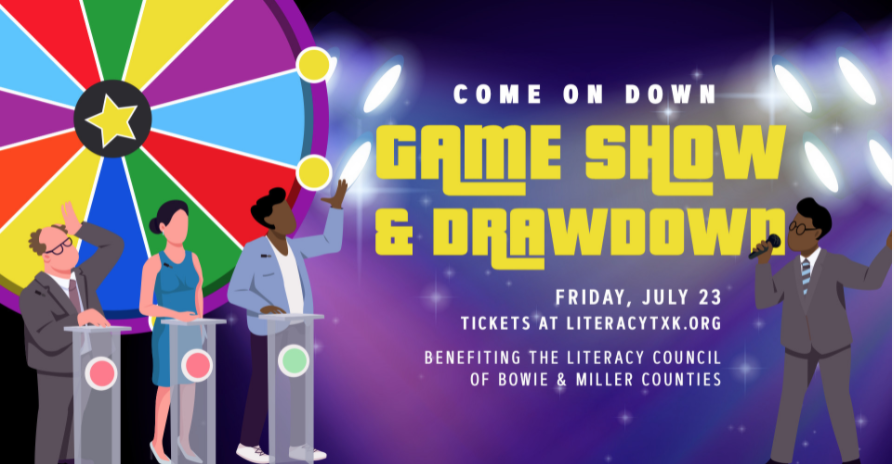 1. Literacy Council Game Show and Drawdown
Friday, July 23
Come on Down! We have a FUN, family friendly event planned to raise money for the Literacy Council. The event has two parts: a Price Is Right-style game show, plus a draw down that could win you up to $5,000! Tickets are available at www.literacytxk.org. We hope to see you there!

2. Twist Kids Camp
July 19 – 31
Please call Artist Becca Clark at (903)-748-2305 for any Twist Camp relations! Learn more here.

3. Texas Constitutional Carry "What do I need to know"
Tuesday, July 20
This is a free seminar for those who want more information about Texas's new Constitutional Carry starting Sept 1, 2021. We will cover the laws, and the pros, and cons of having, or not having, a Texas License to Carry. Seating is limited, so pre-registry is required. All attendees will be given a free 30 min range time coupon just for attending. Please call 903-671-2222 to register, learn more!
4. Grow with Google
Wednesday, July 21
Join Grow with Google Speaker Maria Elena Duron as she shows you how to tap into the power of YouTube. Get best practices for creating a YouTube Channel and compelling video content that promotes your products and services and drives engagement with your brand. In this workshop we'll discuss best practices for: Understanding different video formats How to setup a YouTube channel Making good creative, and how to target and measure the results. Learn more!

5. Paint Your Pet at Redbone Magic
Sunday, July 25
Paint Your Pet is back in 2021 by popular demand! Join us at the famous Redbone Magic to paint your very own pet! After you register, send Shea your pet photo at shea@paintwithcolorhype.com. She will sketch out your pet and provide step by step instructions for painting your fur baby. She will also be there to guide you through any challenges with your painting! Learn more here.

6. Visit Four States Auto Museum
The Four States Auto Museum was founded to preserve, collect, exhibit (including operate) and interpret a collection of automobiles, auto transportation equipment, related historical artifacts, documents, and photographs. The collection of artifacts includes automobiles and auto equipment, archival materials and objects related to autos and automotive history. Materials, equipment and objects of significance to Texarkana and the Four-States area are of particular interest. Learn more!

7. Texarkana Farmers Markets
Shop for local produce at the Texarkana Farmers Markets this Saturday! Texarkana Farmers Market and Gateway Farmers Market are in full swing this season.

8. Holiday Springs Water Park
Enjoy the summer at Holiday Springs Water Park! Park features water slides, lazy river, wave pool, two children's pools including a mega play structure, adult pool, and cabanas. Learn more!

9. Kid Activities
This week specifically includes St. James TechKNOW camp, Northridge and Texarkana Country Clubs camps, Vacation Bible Schools, Summer Movie Clubhouse, Soccer Camps, Dance Camps, and more! Texarkana Parent Magazine has compiled a great list of summer camps and activities in our community for kids! Take a look in their blog here.

10. Live Local Music
Head over to the goTXK Community Calendar to take a look at all of the live music happening around Texarkana, USA this week!