Things to do in Texarkana October 18 – October 26, 2021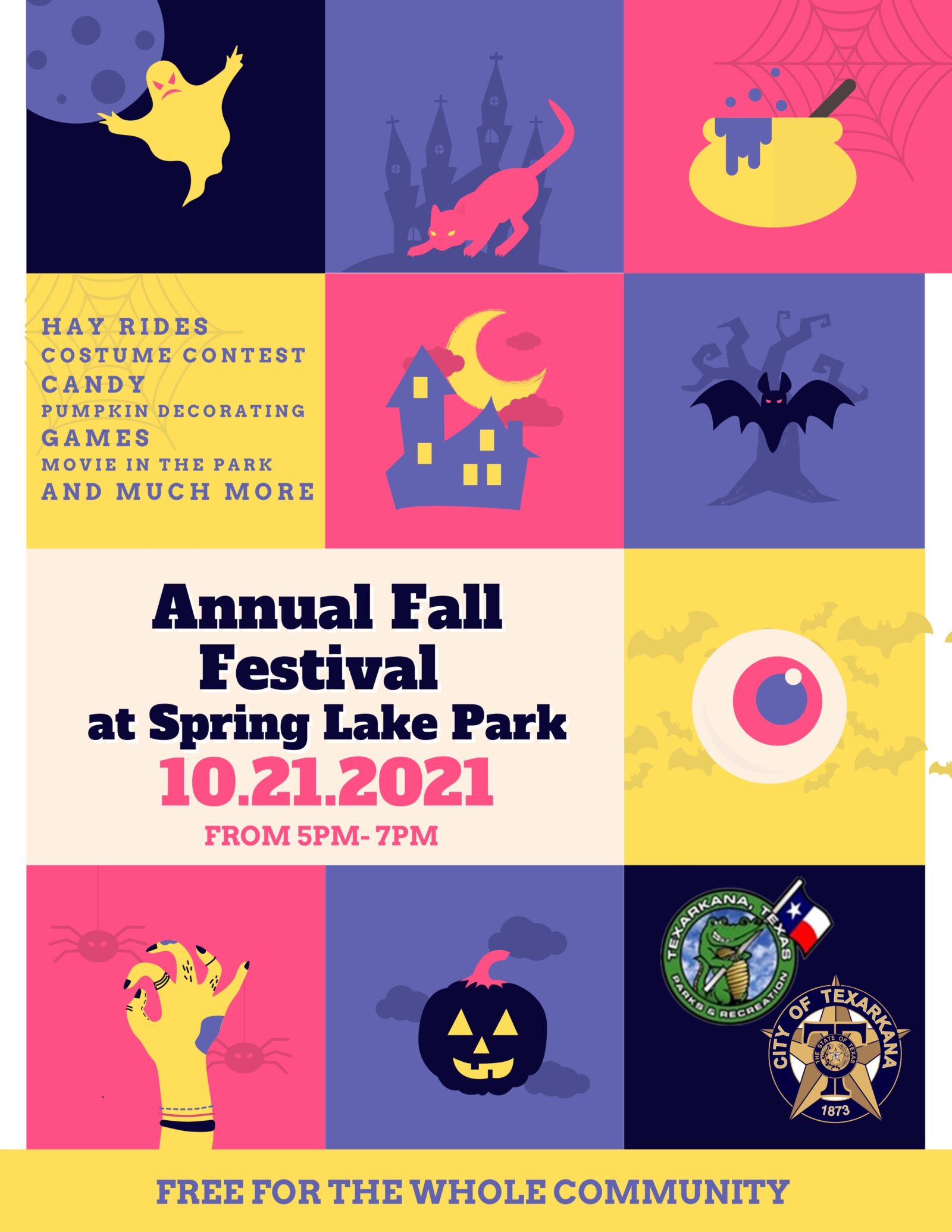 1. Texarkana, TX Annual Fall Festival
Thursday, October 21
Join the City of Texarkana, TX Parks and Recreation Department for the 2021 Annual Fall Festival at Spring Lake Park! Hay Rides, Costume Contest, Free Candy, Pumpkin Decorating, Games, Movie in the Park and Much More!

AND DON'T FORGET

2. Runnin' WJ Ranch 20th Anniversary
Tuesday, October 19
Please join us for our 20 year anniversary celebration! Where the Ranch gets Twisted. Tickets $50 per person for dinner and 2 drinks. It will be night of fun, festivities and fundraising! Learn more.

3. Revolution Barrel Racing Finale IV – Four States Fair Grounds
October 21 & 24
Get qualified to our $20,000 added barrel racing Finale! Go to RevolutionRaces.com to learn how.

4. Pop Up Art Show
October 21 – 22
Make plans to attend this exciting event!

5. Movies in the Park – Cruella
Thursday, October 21
Cruella at sundown. Bring your own chair. Concession stand available. Learn more!

6. Channel Your Flannel – After Hours Social
Thursday, October 21
Make plans to attend. Learn more!

7. Community Wide Yard Sale
Saturday, October 23
Join the Texarkana, TX Parks and Recreation Department for the Fall Community Yard Sale! For more details call (903) 798-3978.

8. Rock Out Cancer Concert
Saturday, October 23
Get your dancing shoes on and get ready for a awesome concert! Friends For A Cause invites you to join them for their third annual Rock Out Cancer Concert! One night only, two bands, live music and excellent food. All for a cause! Help us raise money for cancer patients in our community! $35 for a Rock Star ticket which includes dinner from JR's Catering and $25 General Admission. Limited availability so what are you waiting for? Tickets are on sale now! We take cash, credit card and Paypal. You can reach us at ffacfoundation2014@gmail.com to purchase your ticket.

9. Peak Fighting – PFC
Saturday, October 23
Peak fighting is excited about bringing PF 16 to downtown Texarkana. Come out and enjoy the fights and spend the rest of the night relaxing on the rooftop. Tickets and PPV at www.peakfighting.com.

10. Follow the Texarkana Travels of Mr. Texarkana: Wilbur Smith
In the tradition of flat Stanley, "flat Wilbur can be sighted ANYwhere you might be"! Snap a pic, post and share! For decades Wilbur has been the icon of how one person can lift up Texarkana…let the tradition continue!

Live Local Music
Head over to the goTXK Community Calendar to take a look at all of the live music happening around Texarkana, USA this week!