Things to do in Texarkana March 28 – April 5, 2022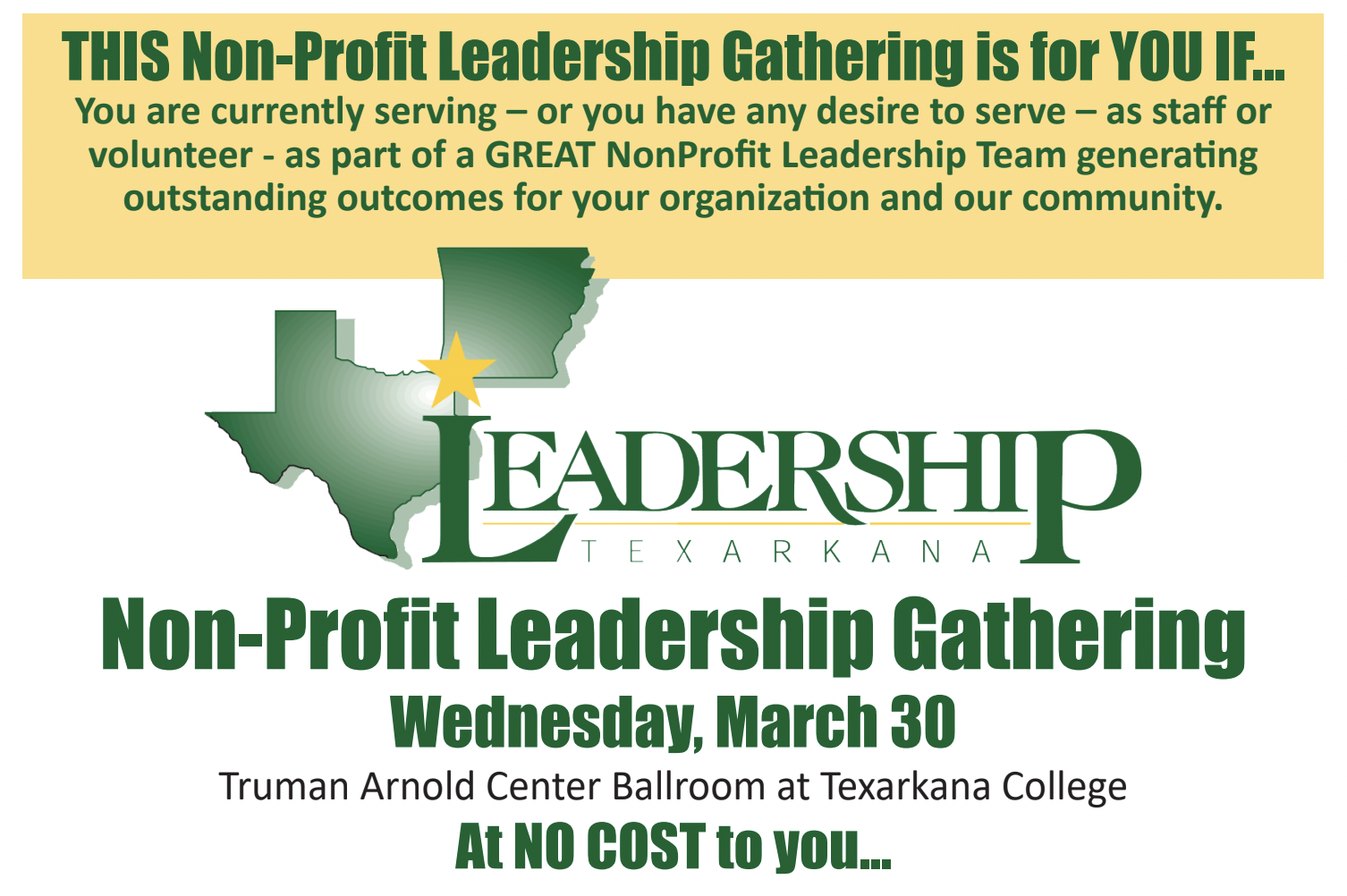 1. Leadership Texarkana Non-Profit Leadership Gathering
Wednesday, March 20
8:30 – 9:30: Coffee and Conversation: An opportunity for established, successful NonProfit Executive Directors to share personal perspectives on effective board leadership – What does it look like? How does one achieve it? …measure it?
10AM-12Noon: Casual Connections: Time and opportunity for service-minded Texarkana residents, to connect with current NonProfit Leaders (board or staff) to compare interests and opportunities for serving and leading.
12Noon – 1:30PM. Lunch / Pondering Possibilities An interactive Strategic doing-inspired conversation for all NP Leaders (NP board or staff leaders) – putting heads together to ponder the possibilities for an imagined future of maximized NP excellence through new local opportunities to develop leadership capacity. RSVP to info@leadershiptexarkana.com. Presented in partnership with Texarkana College!
2. Pitch It Texarkana
Thursday, March 31
Participant's initial pitch will take place on Thursday, March 31st starting at 5:00pm at Crossties in downtown Texarkana. The final pitches will take place at Crossties on Thursday, March 31st starting at 6:00pm in front of an audience. The final pitchers will pitch before a new panel of finals judges.
Learn more!

3. Four State Fair and Rodeo
April 1 – April 10
The Fair is in the Air! The 77th Annual Four States Fair & Rodeo blows into town April 1-10, 2022 featuring Wagner Carnival Games and Rides on the Midway brought to you by Farmers Bank & Trust and Texarkana Emergency Center and Hospital! Learn more.

4. Literacy Council Spelling Bee
Saturday, April 2
Join us for F-U-N at the Literacy Council's annual Spelling Bee and Silent Auction! Sign up to compete or attend here.

AND DON'T FORGET

5. Ceramics Class with Chris Thomas
Tuesday, March 29
Join professional ceramicist Chris Thomas in creating Snuggle vases! This is an opportunity for you to build and paint your own Snuggle vases. Materials will be provided – learn more!
6. The Color of Crochet: The Basics of Crochet for New Learners
Thursday, March 31
Calling all yarn enthusiasts! Take a look at our brand new class – The Color of Crochet. From learning how to crochet your own spring scarf to learning basic crochet techniques, this class is perfect for the beginner. Learn more and register here.
7. Texarkana Monster Trucks Live
Friday, April 1
The Annual Monster MASH Show is Returning! Taking place in the FOUR STATES FAIR ARENA, the Monsters will be battling it out to become Champion in Racing, Wheelies, and Freestyle! Learn more.
8. Habitat for Humanity Rummage Sale
Saturday, April 2
Outside booths available $10…food trucks, music, outside vendors, and store open for business! Learn more.
9. Big Jake's BBQ Open Sporting Clays Tournament
Saturday, April 2
$104 Main Event Sporting, $104 5-Stand, Register on Clayrank – learn more!

10. Opportunities Inc. Sunday Funday
Sunday, April 3
Opportunities, Inc. Spring Event. We hope you will come join us for some fun and support a worthy cause! Please see the above information to contact the Development office for sponsorship inquiries and/or tickets for this new event! $100/ticket, includes admission to the event, Naaman's BBQ, beer/wine, live entertainment by Lil' Skinny, and cornhole (optional)! Learn more.
goTXK T-shirt Contest
Deadline – March 31
ACCEPTING ENTRIES for 2022 goTXK T-shirt contest. Get Creative! Celebrating What's to Love in Texarkana USA. Details at goTXK.org.

Check Out goTXK Calendar
CHECK OUT goTXK Calendar for upcoming events with TICKET INFO – BUY EARLY! PLUS More Opportunities – Submit YOUR events (virtual or in person) to the GOTXK Calendar.