Things to do in Texarkana September 12 – September 20, 2022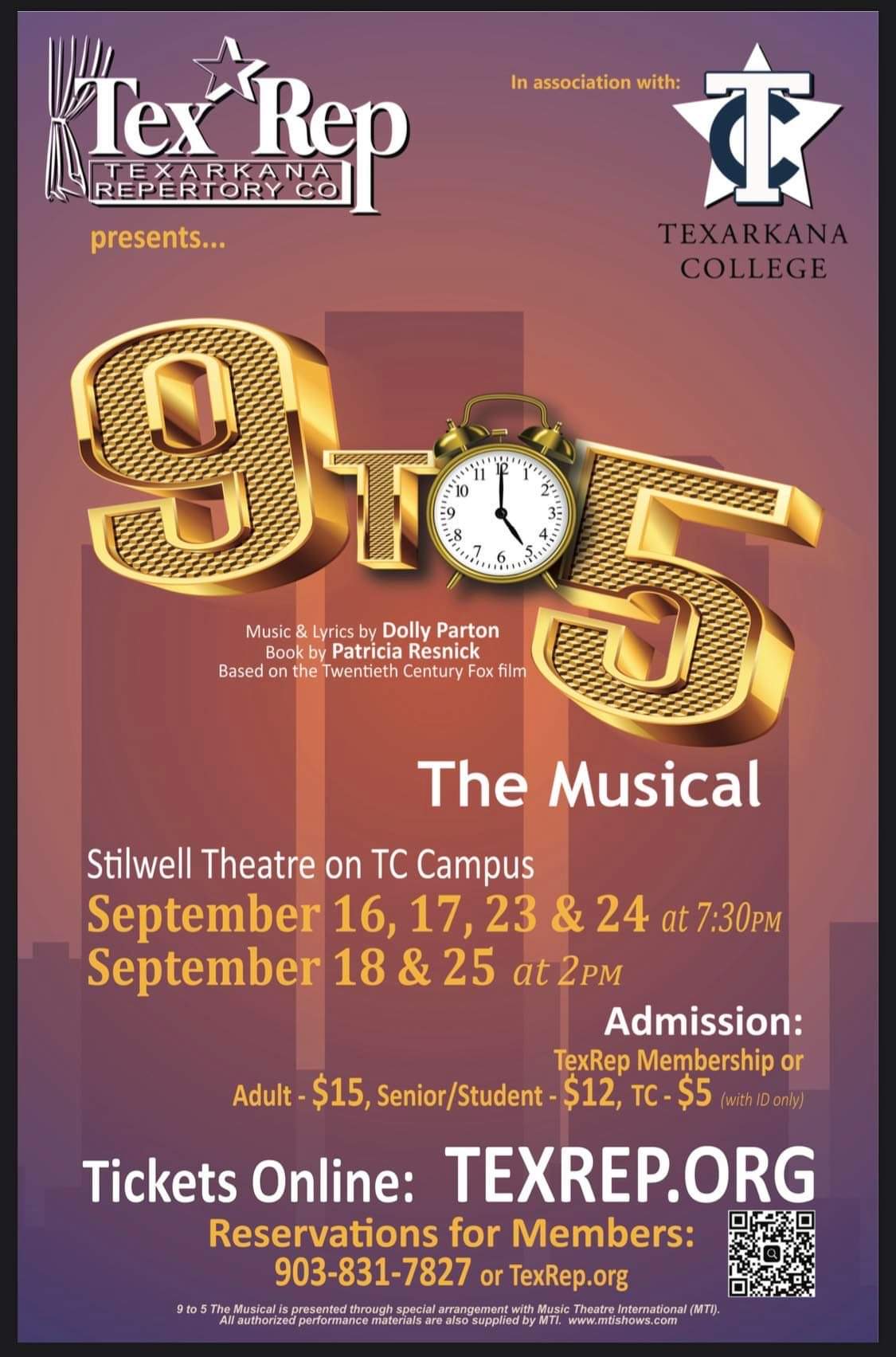 1. TEXREP'S 9 to 5 Musical
September 16 – 18 and 23 – 25
The Texarkana Repertory Company proudly presents 9 to 5 The Musical! Based on the 1980 film of the same name, our story follows Violet, Judy, and Doralee, three hard-working women just trying to blaze a trail through the corporate jungle. Learn more!

2. Woofs and Wags Doggy Brunch
Saturday, September 17
If you're looking to learn more about GTYP, pet all the doggos or just want to hang out with some new people, we will have our second annual Woofs & Wags Doggy Brunch at 11:30 on Saturday Sept 17 at Redbone Magic Brewing. You don't have to bring a dog, but please make sure if you do that your pet has experienced being around crowds and different dogs before. Learn more!

AND DON'T FORGET
3. HR Business Conference
Tuesday, September 13
Make plans to attend this important conference! Learn more.

4. NFMC 2021-2023 Young Artist Winner Soprano – Shaina Martinez
Tuesday, September 13
The Texarkana College Music Department & AR-TX Music Connection present the National Federation of Music Club 2021-2023 Young Artist Winner soprano Shaina Martinez with pianist Mary Scott Smith. Learn more!
5. Haunted Texarkana Ghost Walk
September 16 – 17
Tours run Friday and Saturday evenings at 8pm the last 2 weeks of each month. Private tours available all year round. Learn more!

6. Walk to Defeat ALS
Saturday, September 17
The Walk to Defeat ALS is the #1 way to unite and fundraise for those living with ALS. Each year, fundraising through the Walk drives bold and urgent innovation as we march together toward a cure for ALS. Support our local PALS (people with ALS) in Texarkana's FIRST Walk to Defeat ALS on September 17th. Learn more!

7. 34th Annual POW/MIA Vigil/Ride to Remember
Saturday, September 17
Learn more here!

8. Car & Bike Show
Saturday, September 17
Car and bike show; proceeds to Texarkana Out of the Darkness Suicide Walk. Downtown @ Crossties. Learn more!

9. Dueling Piano
Saturday, September 17
A fun and musical night where you will laugh, sing, and dance along with great music from all eras. Learn more!
10. Local Food and Makers Market
Saturday, September 17
Shop with our Vendors INSIDE and OUTSIDE the store! We are located on the circle in Wake Village; prior bank building (white brick) next door to Dominoes. Learn more!

Sign Up for September Classes at TC
All Month
Take a look at the classes being offered this month through the Community and Business Education Center at Texarkana College!