Things to do in Texarkana October 3 – October 11, 2022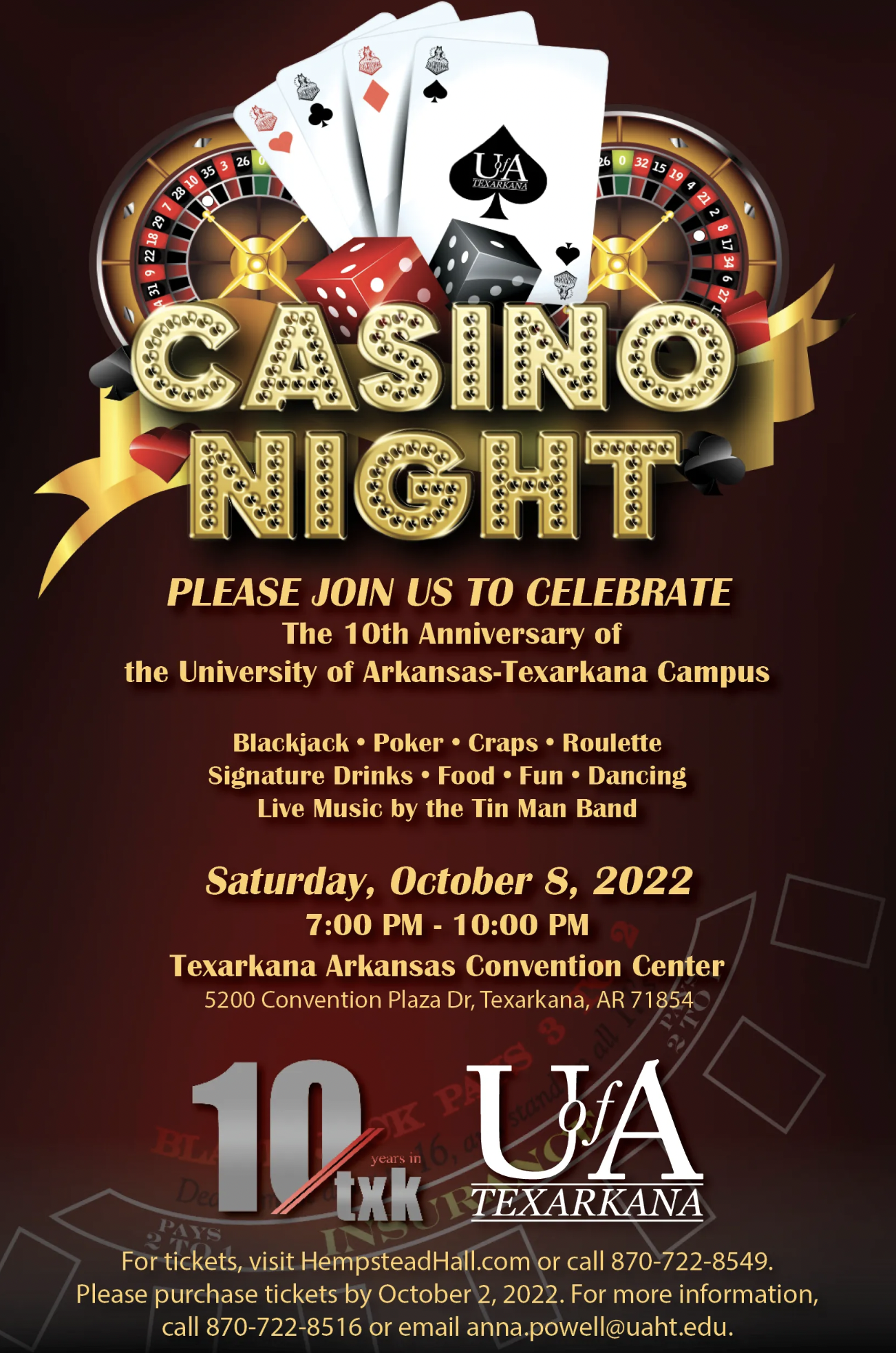 1. UAHT Casino Night 10th Anniversary Celebration
Saturday, October 8
The University of Arkansas Hope-Texarkana will celebrate the tenth anniversary of the Texarkana campus with a special "Casino Night" party. The event you don't want to miss will be held at the Texarkana Arkansas Convention Center on Saturday, October 8, from 7:00 to 10:00 p.m. Join us in your finest Vegas attire for a festive evening of casino games to include Blackjack, Poker, Craps, and Roulette. Enjoy dancing to the music of the Tin Man Band, a high-energy seven-piece band from Dallas, Texas, that plays everything from Aretha Franklin to AC/DC, and, of course, drinks, food, and fun. Learn more!

2. Masterworks I – Zuill Returns! – TSO
Saturday, October 8
Zuill Bailey, widely considered one of the premiere cellists in the world, is a Grammy Award winning, internationally renowned soloist, recitalist, Artistic Director and teacher. His rare combination of celebrated artistry, technical wizardry and engaging personality has secured his place as one of the most sought after and active cellists today. Learn more!

3. Temple's 3rd Annual Cornhole Tournament
Sunday, October 9
What: Temple Memorial Pediatric Center 3rd Cornhole Tournament. Why: To have FUN while supporting Temple Memorial Pediatric Center. Who: Anyone who wants to play! Whether you are a pro, rookie, adult, or kid. We welcome you ALL! When: Sunday, October 9th. Check in and you can start warming up at 12:00 pm. We will start throwing bags at 1:00 pmWhere: Crossties. Cost: 2-person team is $60.00 (advance registration & payment required). Payment: Can be made through Temple's Venmo account @Temple-memorial, or by check, cash, or credit card. Prizes: 1st place $1,000, 2nd place $500, 3rd place $250.

4. Tapas and Wine Fundraiser
Tuesday, October 4
HandsOn Texarkana presents the 14th annual Tapas & Wine fundraiser. Tickets are $100 each, private tables and sponsorships available. Call 903-798-3211 or email handsontxk@aol.com for tickets or more info.

AND DON'T FORGET

5. Williams UMC Pumpkin Patch
All Month
The pumpkins are BACK! Be sure to stop by Williams Memorial United Methodist Church to take your fall photos and pick out some pumpkins.

6. National Night Out
Tuesday, October 4
Make plans to attend your neighborhood National Night Out! Learn more.

7. Senior Day Out
Thursday, October 6
Dierksen Hospice will host Senior Day Out on October 6th from 9:00 AM 1:30 PM. Come join the Dierksen staff for a great day at Spring Lake Park! Learn more.
8. Lucky Dog Barrel Race
October 7 – 9
Come out to the Four States Fairgrounds for a weekend full of Barrel racing. For more information contact us at the fair office 870-773-2941.

9. Habitat for Humanity Rummage Sale
Saturday, October 8
Make plans to attend and learn more here!

10. Cosplay Crawl – Downtown Texarkana
Saturday, October 8
Join us for a downtown Texarkana cosplay crawl, beginning at 6:00 PM on Saturday, October 8, at the Railyard Saloon, as we hop from bar to bar. Ages 21+. Costume required to participate. Email erinashleydeblanc@gmail.com for more information.

2nd Katina R. Levingston Tough Kookie Breast Cancer Pink Out Sunday
Sunday, October 9
Dress in Pink on Sunday October 9, 2022. Let's make Texarkana and the surrounding area PINK ALL DAY! Learn more.
Live Music
All Week
Head over to the goTXK calendar to take a look at all of the live music happening this week!

Leadership Texarkana Fall Party
Tuesday, October 4
Special to community supporters of the work of Leadership Texarkana. LT graduates, sponsoring/supporting, and community partners! Hosted by Leadership Texarkana and the class of 2022. Learn more!