Sandra Warren is leading the way in Texarkana, USA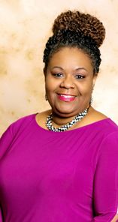 Sandra Warren is a Program Manager for the Arkansas Single Parent Scholarship Fund. She earned a Bachelor of Applied Arts and Science from Texas A&M Texarkana. She is a licensed ordained minister, as well as founder and CEO of Life Outreach Ministries TXK. There, she hosts life empowering events that cross denominational barriers in the community. She has a heart for empowering women and building family relationships. Sandra is passionate about promoting single parents to higher education and helping them reach their educational goals. She serves as a board member of the Ozan Ingham Iron Mountain Neighborhood Development Corp and coordinator for the MLK Weekend Celebration Gala. Sandra has been married to Marvin for 30 years and they have two wonderful children, Aaron and Morgan, as well as three amazing grandchildren.
THANK YOU SANDRA, for stepping up to lead the way for excellence–and the well-being of all–in Texarkana USA!