Things to do in Texarkana January 16 – January 24, 2023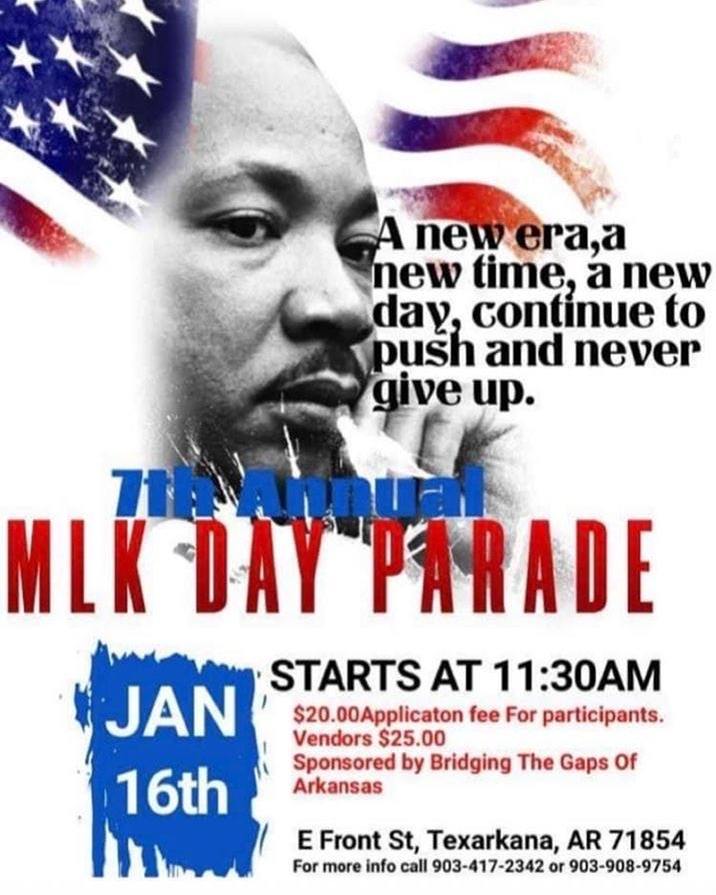 1. Martin Luther King Day Parade
Monday, January 16
Make plans to attend the 7th Annual MLK Day Parade! It begins at 11:30AM – learn more here.

2. TAAC: Ernest C. Withers' Collection, Good Night, My Love
Tuesday, January 17
Featured in TAAC's 21st Regional Celebration of African American Artists this exhibition will showcase photos taken by Dr. Ernest C. Withers. This exhibit will also feature local photographers and a High School Cell Phone Photography Competition. Learn more!

3. Cooking Class at Texarkana College
Tuesday, January 17
In this hands-on class with Chef Tyler Standridge, you will elevate your cooking skills and master the art of the ever-versatile Northern Italian rice dish, Risotto. You will make two different recipes during this class. Recipes in class will be made in 1-person servings, but you will take home recipes for full family-size servings. Learn more!

4. Infant Safety and CPR Training
Tuesday, January 17
Join us for Infant Safety and CPR Training Class at Pathway Resource Center from 6:30 – 7:30 PM. 3rd Tuesday of each month. This class will be great for new parents and caretakers of infants. Learn more!

5. Youth Zumba
Thursday, January 19
Make plans to attend at the Southwest Center! Learn more here.

6. Alex & Liv at Twisted Fork
Friday, January 20
Make plans to visit Twisted Fork and hear Alex & Liv LIVE! Learn more.

7. History of the A.L. Ghio Family
January 10 – February 7
Make plans to join us on January 21st for a presentation by Dr. Laura Sikes of TAMU-T on the history of A. L. Ghio. Mr. Ghio was one of the first few to purchase city lots in Texarkana. Afterwards, we will be showing "Papa's Delicate Condition" based on the book by Corinne Griffith, the granddaughter of A. L. Ghio, at the 1923 Banana Club and serving an Italian Dinner. Tickets for both may be purchased here! For more information call 903.793.4831 or email AceofClubs@TexarkanaMuseums.org.

8. Visit New Fitness Court at Spring Lake Park
The Fitness Court installation is underway at Spring Lake Park. This will be a great feature of the park, and we will have updates on the ribbon cutting and additional details soon. We also want to give a huge thanks to AEP SWEPCO for their major contribution to this project! Learn more.
9. Register for Pitch It Texarkana
Do you have an authentic and innovative idea? Pitch It at Texarkana's Entrepreneurial competition! Learn more.
10. Celebrate Sesquicentennial All Year Long
Quarterly calendars and details for individual events will be announced on each of the platforms listed. Currently, the list of events planned by the committee include these events!

Live Music
All Week
Head over to the goTXK calendar to take a look at all of the live music happening this week!