Things to do in Texarkana April 3 – April 11, 2023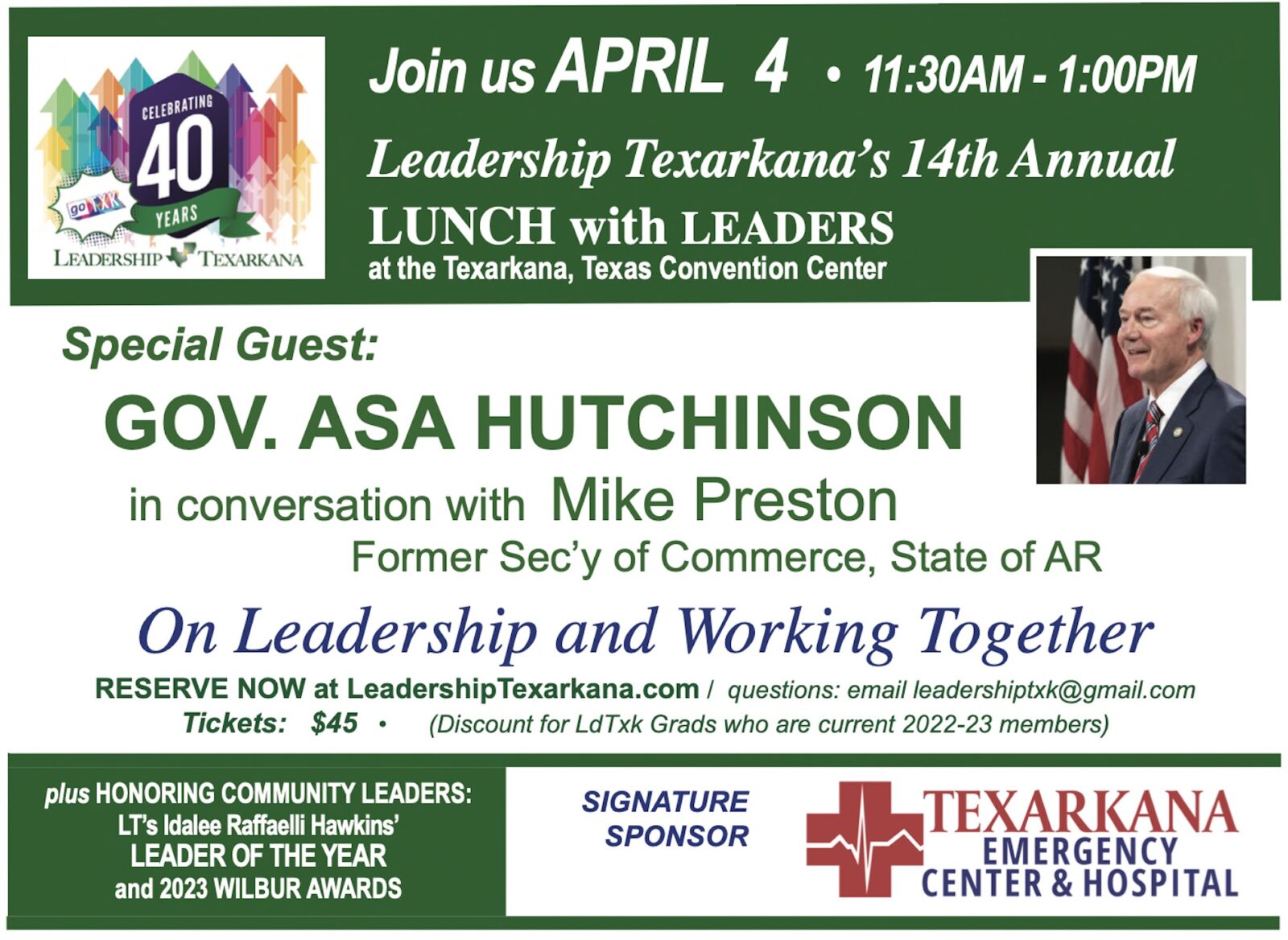 1. Lunch with Leaders
Tuesday, April 4
Lunch with Leaders is happening this Tuesday with special guest former Arkansas Governor Asa Hutchinson.
2. Farmers Bank Foundation Distinguished Speaker Series
Thursday, April 6
Purchase tickets and make plans to attend here!
3. 78th Annual Four States Fair
March 31 – April 9
Come out and join us for the 78th Annual Four States Fair and Rodeo. For more information find us on Facebook or you can visit our webiste at fourstatesfair.com.

4. Runnin' WJ Ranch Benefit Sporting Clay Shoot
Saturday, April 8
Join us at Rocky Creek Outdoors on Saturday, April 8th starting at 8am for some friendly competition, the Texan way. Alongside the event will also be a raffle and other fun prizes, so show up and have a good time, all for a great cause. Learn more!

5. Bingo Night – For the Sake of One
Thursday, April 6
Join For the Sake of One for their 2nd Annual Bingo Night Fundraiser! There will be food trucks, a cash bar and prizes from local businesses! Help us raise funds to go towards our vision: a community where every child has a stable home and every family has the tools to thrive. Get your tickets here!


AND DON'T FORGET
6. Luke's Free Friday at Thrive Yoga
Friday, April 7
1st Friday of every month, ALL regular classes are FREE at Thrive Yoga TX in honro and memory of Luke Carder Sachitano. Your presence we miss, your memories we treasure. Loving you always, forgetting you never. Learn more.

7. FIT4Mom Stroller Strides
Friday, April 7
Stroller Strides is a program that welcomes #allthemoms. It is a stroller based 60-minute total-body workout with strength, cardio, and core training, all while engaging the little ones in a stroller! You'll leave class feeling strong 💪, empowered 💥, connected 💕 and energized 🏃‍— no matter your stage of motherhood. You weren't meant to do motherhood alone, join us! Register for your first FREE class at fit4mom-texarkana.pike13.com

8. Plant and Craft Sale at Binning Farm
Saturday, April 8
Come join us for our Plant and Craft Sale and visit with all the fabulous vendors and get your garden plants. Learn more!

9. Live Music
All Week
Head over to the goTXK calendar to take a look at all of the live music happening this week!
10. Celebrate Sesquicentennial All Year Long
Quarterly calendars and details for individual events will be announced on each of the platforms listed. Currently, the list of events planned by the committee include these events!