Things to do in Texarkana May 22 – May 30, 2023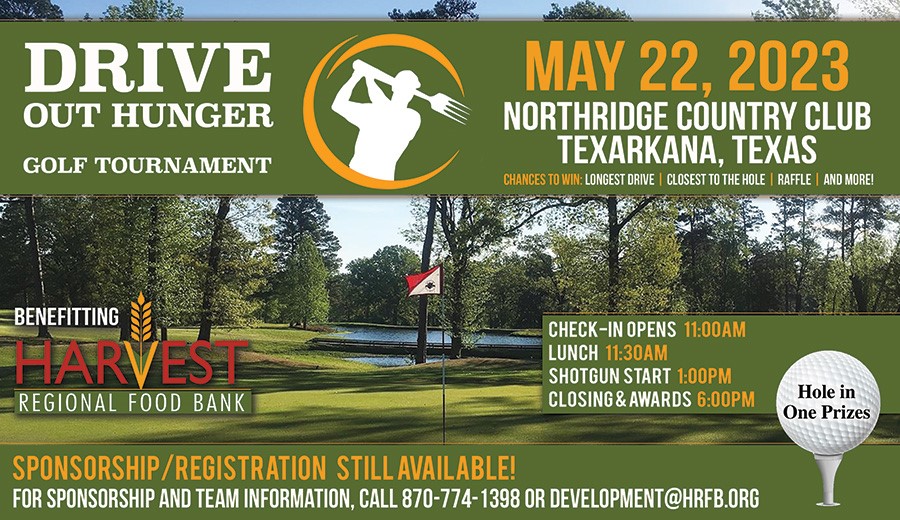 1. Drive Out Hunger Golf Tournament – Harvest Texarkana
Monday, May 22
Harvest is thrilled to announce our 3rd Annual Drive Out Hunger Golf Tournament! Sponsorship/Team Registration available. Join us for a day of fun on the green and help fight food insecurity in Southwest Arkansas and Northeast Texas! Learn more.

2. First Responders Day
Wednesday, May 24
THANK YOU to our First Responders!
3. Movies in the Park
Thursday, May 25
Our summer Movies In The Park kicks off on May 25th at Spring Lake Park at 7:00pm. We have a great line up and we can't wait to host another round of movies with the help of our friends at Healthcare Express. May 25th: Top Gun Maverick @7:00pm.

AND DON'T FORGET
4. Drop-In Art Experience at TRAHC
Saturday, May 27
Join Visual Arts Director, Chris Wicker, for our next Drop-In Art experience! Have you ever wanted to become a part of the artwork in the exhibition? Now you can with the power of green screen technology! This unique art experience, taking place on Saturday, May 27 from 10-2, will provide viewers the opportunity to become a part of the exhibition through a green screen station set up in the gallery. Mark your calendars, and get ready to become a part of the show!

5. FIT4Mom Play Date
Saturday, May 27
Join us for a fun craft with Jade Dickens of Pediatric & Family Counseling of Texarkana. She will be providing education to families as kids get crafty! Learn more.

6. Arkansas Quarter Horse Show
Friday, May 26 – Sunday, May 28
Arkansas Quarter Horse Show will be back at the Four States Fairgrounds May 26-28. Check our Facebook page for any updates and further information or call the office at 870-773-2941.
7. goTXK T-Shirt Contest
Deadline to Submit is July 31
This year, we are celebrating 150 years of Texarkana and calling for creative minds to help us celebrate by creating a Texarkana 150th anniversary t-shirt design! Email keith.beason@txkusa.org for more information.

8. Spring Lake Park Walk Through History
Wednesday, May 24
These tours were intended for our wonderful Seniors but by request, we have included some Saturday dates for those that work during the week to have to opportunity to participate as well! Click the link below to register for one of these tours! Learn more.
9. A Cycle Through History and Public Art
Friday, May 26
This season we will go back and forth between A Cycle through History and A Cycle Through Public Art! All tours begin at the Museum of Regional History at 219 N. Stateline Avenue, and conclude with appetizers provided to participants at Pecan Point Brewery! We are limited to 10 participants per tour, and there are limited bicycles available, so bringing your own bicycle is encouraged! Learn more.
10. Farmers Markets
Saturday, May 27
Come meet your farmers. Learn more.

Register for Summer Camps
Head over to the goTXK calendar and take a look at all of the summer camps available for kids in our community!

Apply for Leadership Texarkana
Applications Open Now
Apply to be part of the Leadership Texarkana Class of 2024. Applications open now at leadershiptexarkana.com – Limited spaces; deadline June 20, 2023.
Live Music
All Week
Head over to the goTXK calendar to take a look at all of the live music happening this week!
Celebrate Sesquicentennial All Year Long
Quarterly calendars and details for individual events will be announced on each of the platforms listed. Currently, the list of events planned by the committee include these events!