Things to do in Texarkana May 8 – May 16, 2023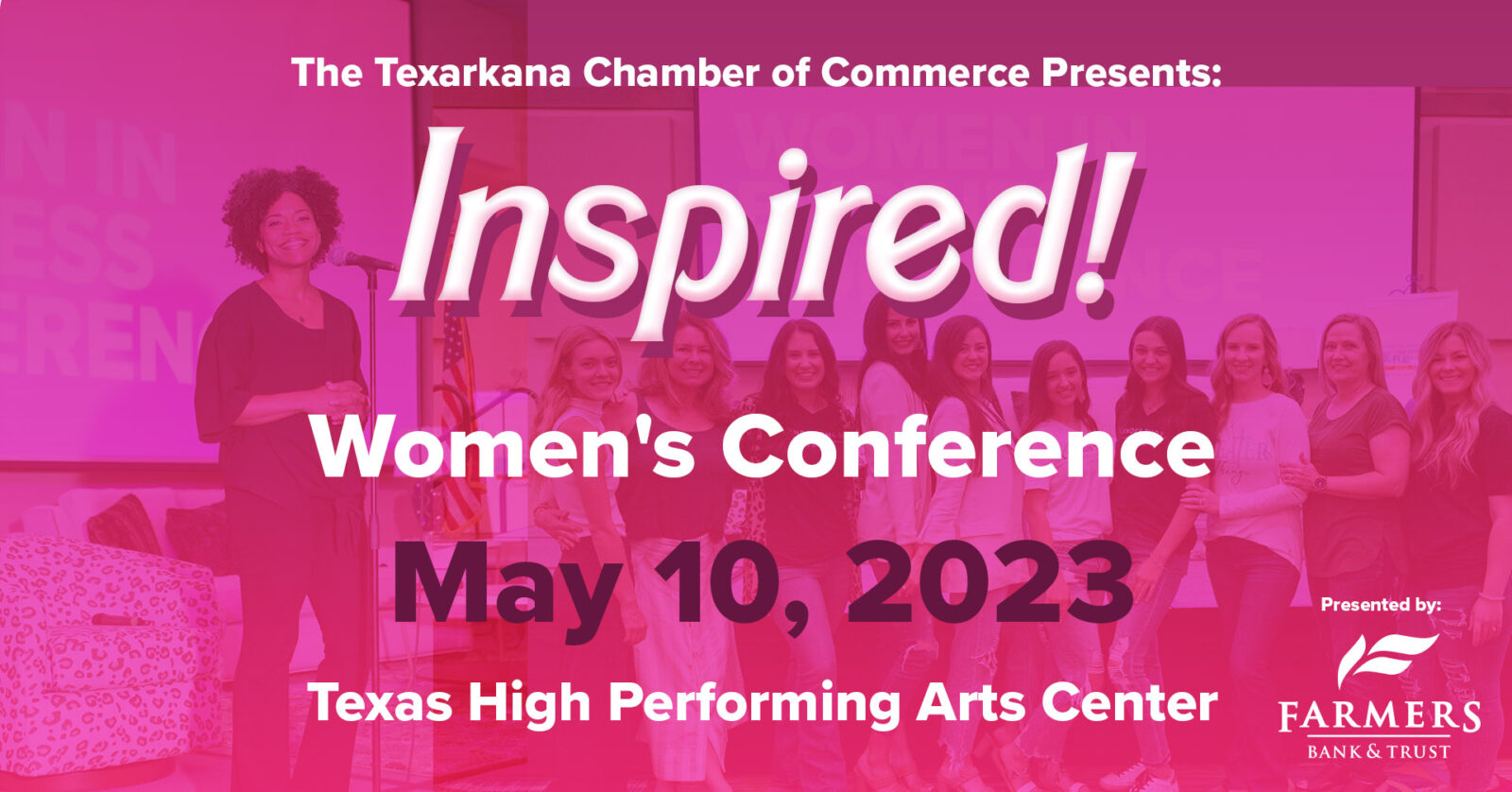 1. Inspired! Women in Business Conference
Wednesday, May 10
Join us for a fun event celebrating Women in Business! We'll start with a light breakfast at 8:30 AM then the program begins at 9 AM. We'll hear from Pari Smart, Jill Janes, and Chakisse Newton. Topics will include, "Being Your Best Self," "Silencing Your Inner Mean Girl," and "Developing Your Value Proposition." The event will conclude at 12 noon. Learn more!

2. Downtown Live at The Gallery
Friday, May 12
Join us at The Gallery at 1894 to view art and talk with the talented artists here at The Gallery. Learn more!
3. Texarkana Dragon Boat Race Festival
Saturday, May 13
Dragon Boat Race Festival supporting HandsOn Texarkana. Fun-filled family event at Bringle Lake Texarkana. Come out and watch dragon boat races, shop vendor booths, enjoy food trucks and music, all while supporting a good cause! Gather a team of 20 and race boats across Bringle Lake. Great for business team building, friends, or family to compete. Visit our website www.texarkanadragonboat.com.
 

AND DON'T FORGET
4. FIT4MOM Texarkana's Mom's Night Out On The Range
Wednesday, May 10
Who's ready for Mom's Night Out…ON THE RANGE?! Mark your calendars, ladies! On Wednesday, May 10, at 5:30 pm, F4M TXK is hitting the links with the fabulous Sam Wacha! The cost is $20 per person and will include beverages! No experience required to have a great time! We'll see you at the course! Sign up at texarkana.fit4mom.com/schedule.

5. Spring Lake Park Walk Through History
Wednesday, May 10
These tours were intended for our wonderful Seniors but by request, we have included some Saturday dates for those that work during the week to have to opportunity to participate as well! Click the link below to register for one of these tours! Learn more.
6. A Cycle Through History and Public Art
Friday, May 12
This season we will go back and forth between A Cycle through History and A Cycle Through Public Art! All tours begin at the Museum of Regional History at 219 N. Stateline Avenue, and conclude with appetizers provided to participants at Pecan Point Brewery! We are limited to 10 participants per tour, and there are limited bicycles available, so bringing your own bicycle is encouraged! Learn more.

7. The Texarkana Repertory Company Presents: PIPPIN
May 12 – May 14
With an infectiously unforgettable score from four-time Grammy winner, three-time Oscar winner and musical theatre giant, Stephen Schwartz, Pippin is the story of one young man's journey to be extraordinary. Winner of four 2013 Tony Awards including Best Musical Revival, this updated version of Pippin continues to captivate and appeal to the young at heart throughout the world. Learn more!
8. Farmers Markets
Saturday, May 13
Come meet your farmers. Learn more.


9. Mother's Day Gifts
Saturday, May 13
Join us for a FREE hands-on workshop. Kids of all ages can make either an ornament or bookmark keepsake using dried flowers. Then surprise the "mom" in your life with this special gift – your aunt, grandma, sister, stepmom, or any other person whom you consider a mom. This event will be held on Saturday, May 13th from 2:00 pm to 4:00 pm at the Museum of Regional History, 219 N. Stateline Ave. Sign up early at TexarkanaMuseums.org/Events for a chance to win a Mother's Day Basket full of goodies.

10. TRAHC Student Juried Exhibition
Through June 15
This exhibition is TRAHC's 30th year of displaying artwork from K-12 students in the Texarkana area. Featured on all floors of our building, the student exhibition has many different mediums including ceramics, painting, drawing, printmaking, and textiles. Please come down Tuesday through Saturday from 10:00 am -4:00 pm to the Regional Arts Center to view this exhibition. TRAHC's visual art exhibitions are free to the public. School and civic group tours are available upon request. Thank you to the Kiwanis Club of Texarkana Foundation for sponsoring this exhibition.
Apply for Leadership Texarkana
Applications Open Now
Apply to be part of the Leadership Texarkana Class of 2024. Applications open now at leadershiptexarkana.com – Limited spaces; deadline June 20, 2023.
Live Music
All Week
Head over to the goTXK calendar to take a look at all of the live music happening this week!
Celebrate Sesquicentennial All Year Long
Quarterly calendars and details for individual events will be announced on each of the platforms listed. Currently, the list of events planned by the committee include these events!