Trish Reed – Making an Impact in Texarkana, USA

This week we give a special salute to Trish Reed, who has just recently retired – once again – after serving her second full six year stint (two three year terms) on the Leadership Texarkana (LT) Board of Directors. We single her out for the impact she has had on the organization, having not only served as a Past President of the Board, but also for her work in instigating LT's Sponsoring Partner program in 2010, which enabled Leadership Texarkana to fund its first Executive Director as an independent non-profit, and for her subsequent leadership in growing the funding program five-fold in the years since.
Leadership Texarkana is not the only community organization to which Trish has devoted herself in service over the years: she was instrumental in launching the Pleasant Grove ISD Education Foundation, as well as growing the Komen Texarkana Race for the Cure; she has worked for several other non-profits, including Friends of St. Michael. When she commits, she commits!
Trish is a graduate of Pleasant Grove High School and Louisiana Tech University. Trish has been a valued member of the leadership team at Guaranty Bank & Trust for many years, serving in the marketing department and as the corporate coordinator for events.
See Also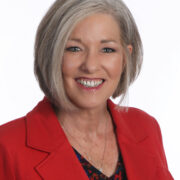 THANKS TRISH for your service and commitment to pursuing Community Excellence for Texarkana USA!