Things to do in Texarkana December 6 – December 14, 2021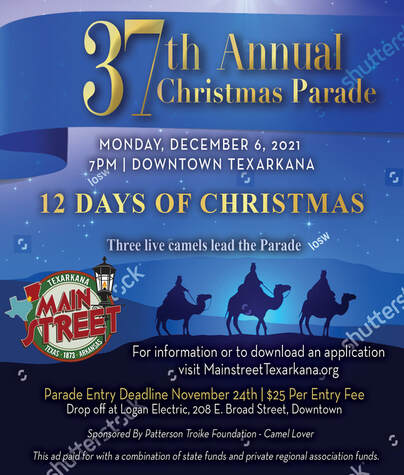 1. 37th Annual Christmas Parade
Monday, December 6
The Christmas Parade is BACK this year! Make plans to attend!
Parade-goers: Be sure to leave the streets as clean as you found them! goTXK. Clean and Green.

2. Christmas Market
Monday, December 6
Stop by the Downtown Christmas Market before the parade this Monday! Learn more.

3. Downtown Live at 1894 Gallery and Second Saturday Trade Days
December 10 – 11
We will have awesome artists painting outside the 1894 Gallery, 105 Olive Street, and on Broad Street. Come downtown and have a great time. Learn more!

4. Holiday Open House – Joseph Raymond Fine Art Gallery
December 10 – 11
Find the perfect gift at our Holiday Open House! Learn more.

5. Christmas at the Perot
Sunday, December 12
A Texarkana Tradition! Join the TSO, the Texarkana Jazz Orchestra and the TSO Chamber Singers for a holiday concert for the whole family. Don't miss seeing the winner of the TSO's 11th Annual Celebrity Conductor Competition! Learn more.

AND DON'T FORGET

6. Sense & Sensibility
December 10-12
A playful new adaptation of Jane Austen's beloved novel follows the fortunes (and misfortunes) of the Dashwood sisters—sensible Elinor and hypersensitive Marianne—after their father's sudden death leaves them financially destitute and socially vulnerable. Learn more!

7. Breakfast with Santa
Saturday, December 11
Come join the City of Texarkana Arkansas and the Texarkana Arkansas Parks Department for Breakfast with Santa. There will be pancakes, hot chocolate, games, and giveaways! Learn more.

8. Show Me Snakes Exotic Pet Expo
December 11 – 12
Come enjoy this TWO DAY reptile show in Arkansas. This expo is very unique; we aim to educate and cultivate a great exotic pet and reptile community. Learn more!

9. Frozen Christmas Circus
Sunday, December 12
Let the holidays begin in awe with, Frozen Christmas Circus presented by Taconhy entertainment, LLC. Audiences will be on the edge of their seats enjoying thrilling tight rope walkers, electrifying jugglers, mesmerizing acrobats, hilarious clowns, and our giant panda and polar bear characters!
Learn more.

10. Beauty Matters: Vote for Beauty!
Local voting has put Texarkana's Amtrak station beautification in the TOP 25% nationally – and as a quarterfinalist Texarkana's proposal is well-positioned to win the $25,000 award, SO HELP TAKE US TO THE TOP. Final voting ends December 12. Individuals can vote up to 25X every day until then, (which takes less than one minute a day!) Reflecting Mark Twain's observation about "job" interviews, we have only one chance to make a first impression… Amtrak riders' first impressions of Texarkana matter! VOTE AND SHARE HERE. Winners announced December 20.

Live Local Music
Head over to the goTXK Community Calendar to take a look at all of the live music happening around Texarkana, USA this week!