Things to do in Texarkana August 22 – August 30, 2022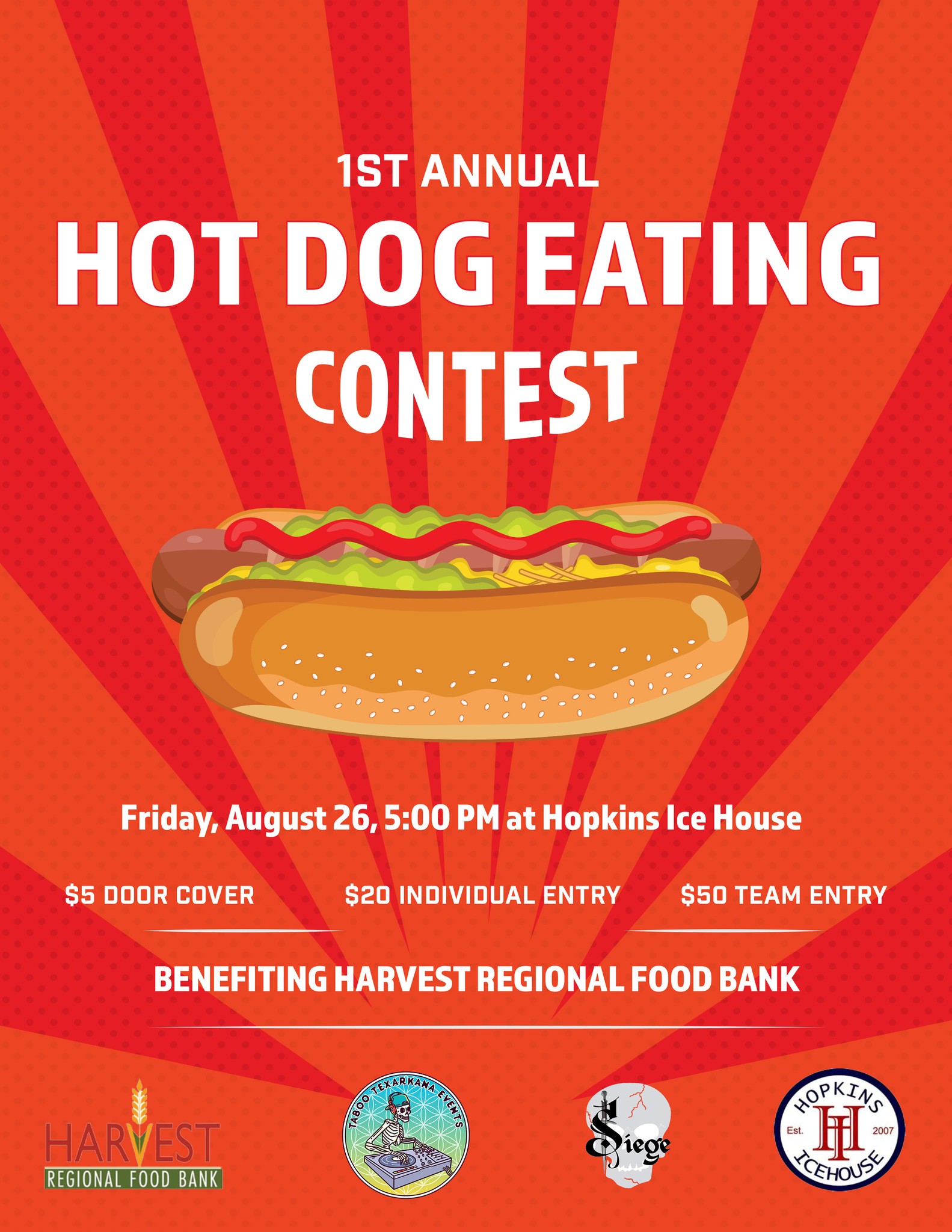 1. 1st Annual Hot Dog Eating Contest
Come out and enter, or just watch, the first annual hot dog eating contest at Hopkins Icehouse on August 26, beginning at 5:00 PM. $5 door cover, $20 individual entry, $50 team entry (4 people). All proceeds go to Harvest Texarkana Regional Food Bank. To book your ticket in advance, visit here!

2. GTYP Social Connections and Networking Event
Thursday, August 25
Expand your sphere and add new connections or catch-up with existing ones. Learn more!


AND DON'T FORGET


3. Sweets N Sourdough Pop Up Shop at the Vault
Wednesday, August 24
Come to our Sweets N Sourdough Pop Up Shop! The Vault in Wake Village, TX. 11-2. Preorder your items and pick up during this time. We will also have lots of goodies on hand to shop as well! Learn more.
4. Career Moves – By Texarkana Recreation Center and TC EOC
Thursday, August 25
Learn how to create a cover page, resume, and more at this Career Moves workshop! Learn more.

5. "Venetian Door" Paint and Sip with ColorHype TXK
Thursday, August 25
Join Shea at 67 Landing for an unforgettable Paint Night! Sip on your favorite beverage while we take you through the painting step by step. No prior experience needed and its fun for everyone! All supplies are included.
Check out our Facebook page at https://www.facebook.com/colorhypetxk for special offers!
6. Red River Little Britches Rodeo
August 26-27
Red River Little Britches Rodeo at the Four States Fairgrounds Entertainment Center. Please visit our website for further information and event schedules.
7. Canned Christmas
Saturday, August 27
Join TMS for a Christmas crafting workshop! Create mason jar gifts for Secret Santa or stocking stuffers. All supplies, including vintage canning jars, will be provided. Tickets are $25 each or $20 for TMS Members. Tickets must be purchased in advance. Deadline is August 25. For more information, please call 903-793-4831.
8. Haunted Texarkana Ghost Walk
Saturday, August 27
Learn Texarkana history and make plans to attend this unique event! Learn more.
9. "Haircuts for my Homies"
Sunday, August 28
Haircuts For My Homies is a community driven event that offers FREE haircuts, FREE meals, warm blankets, clothing items, and toiletries to those in need. Learn more!

10. Live Music
All Week
Head over to the goTXK calendar to take a look at all of the live music happening this week!