Texarkana USA is being acknowledged as a Strategic Doing Community that gets things done!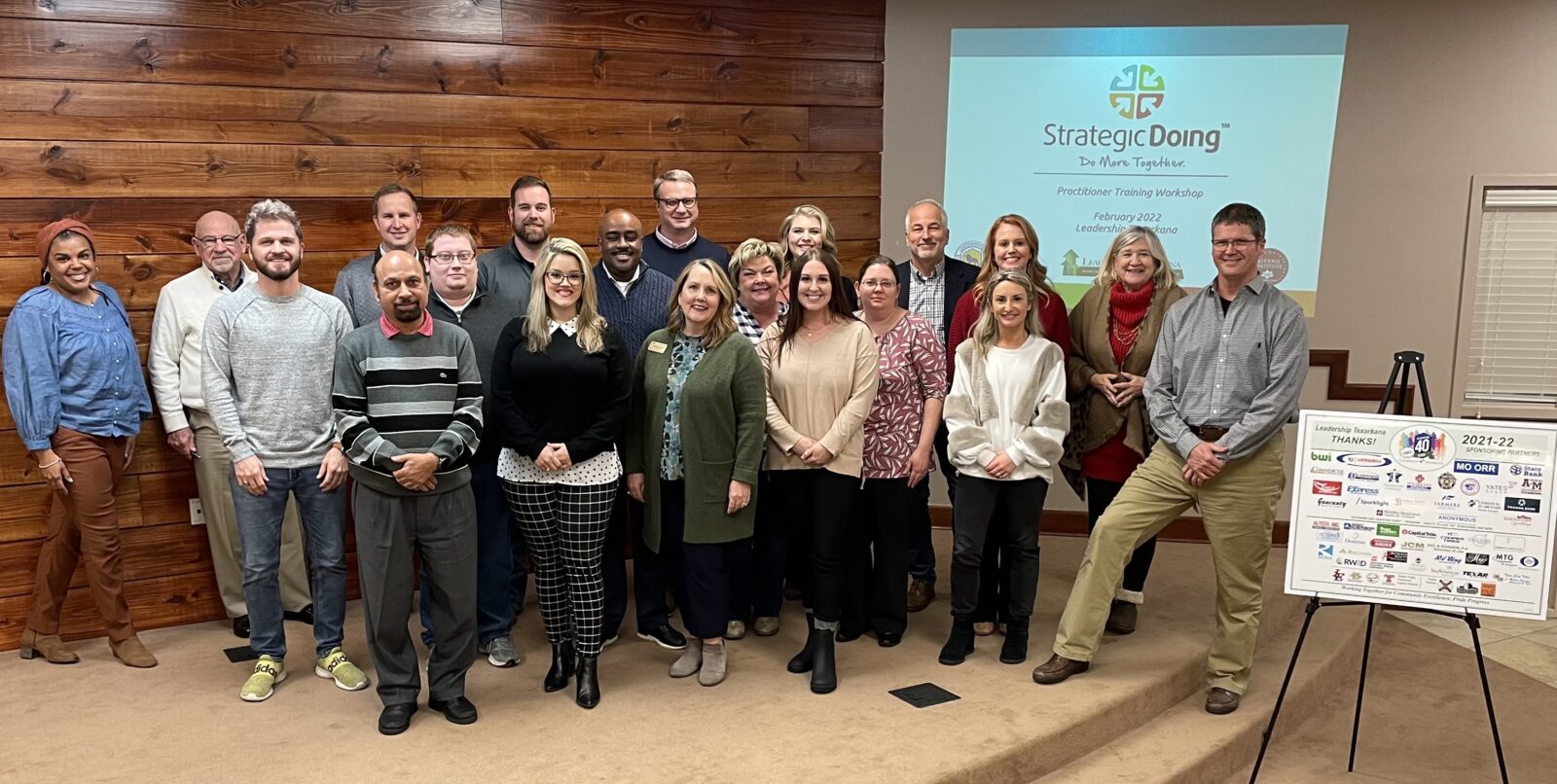 When the Strategic Doing Institute Faculty and Fellows in Alabama want to direct others to a community that's making the most of Strategic Doing, founder Ed Morrison has reported that they say, "You should go see what Texarkana is doing with it!" Strategic Doing is a proven process nationwide for successfully addressing the many complex challenges which are increasingly plaguing our communities and organizations–challenges for which there is no one underlying cause nor a single answer. It is a strategy process designed to move open, loosely connected networks–like our region–to the DOING, in doable steps.

In 2018, a small group of community leaders challenged Texarkana USA to Imagine what it would like to TAP the proven potential of Strategic Doing for doing business in new ways in Texarkana USA to get NEW outcomes and progress. In the four years since, Leadership Texarkana's LIFT Strategic Doing Initiative (SDI) has been pursuing just that. Through the focused work of SDI group's core team, over forty community leaders have been trained as Strategic Doing practitioners, with another forty to be trained this year locally.

As trained practitioners themselves, Strategic Doing is being championed and used by SDI core team members Rob Sitterley of AR-TX Redi, Scott Norton of TexAmericas Center, David Orr of Texarkana, TX, Jay Ellington of Texarkana, AR; Chamber past chairs, Jennifer Harland and Joey Martin; Jason Smith of Texarkana College; Toney Favors of TAMU-T, as well as by Lesley Ledwell of Pitch It (and Ledwell); Chamber BR&E director Robbin Bass; Educational leaders Robin Hickerson of TASD, Susan Waldrep of TISD, and dozens more of every leading entity in Texarkana USA! And of course, it's being integrated into the Leadership Texarkana classes and the teams where it fits.

If YOU or your team are interested in learning more about what is going on locally with Strategic Doing, email us at leadershiptxk@gmail.com. We have local training scheduled the end of October. Imagine a Texarkana USA that had competitive advantage for excellence from Strategic doing… what could you, should you, will YOU do?

Check out why we're excited about Strategic Doing at strategicdoing.net.