Things to do in Texarkana February 6 – February 14, 2023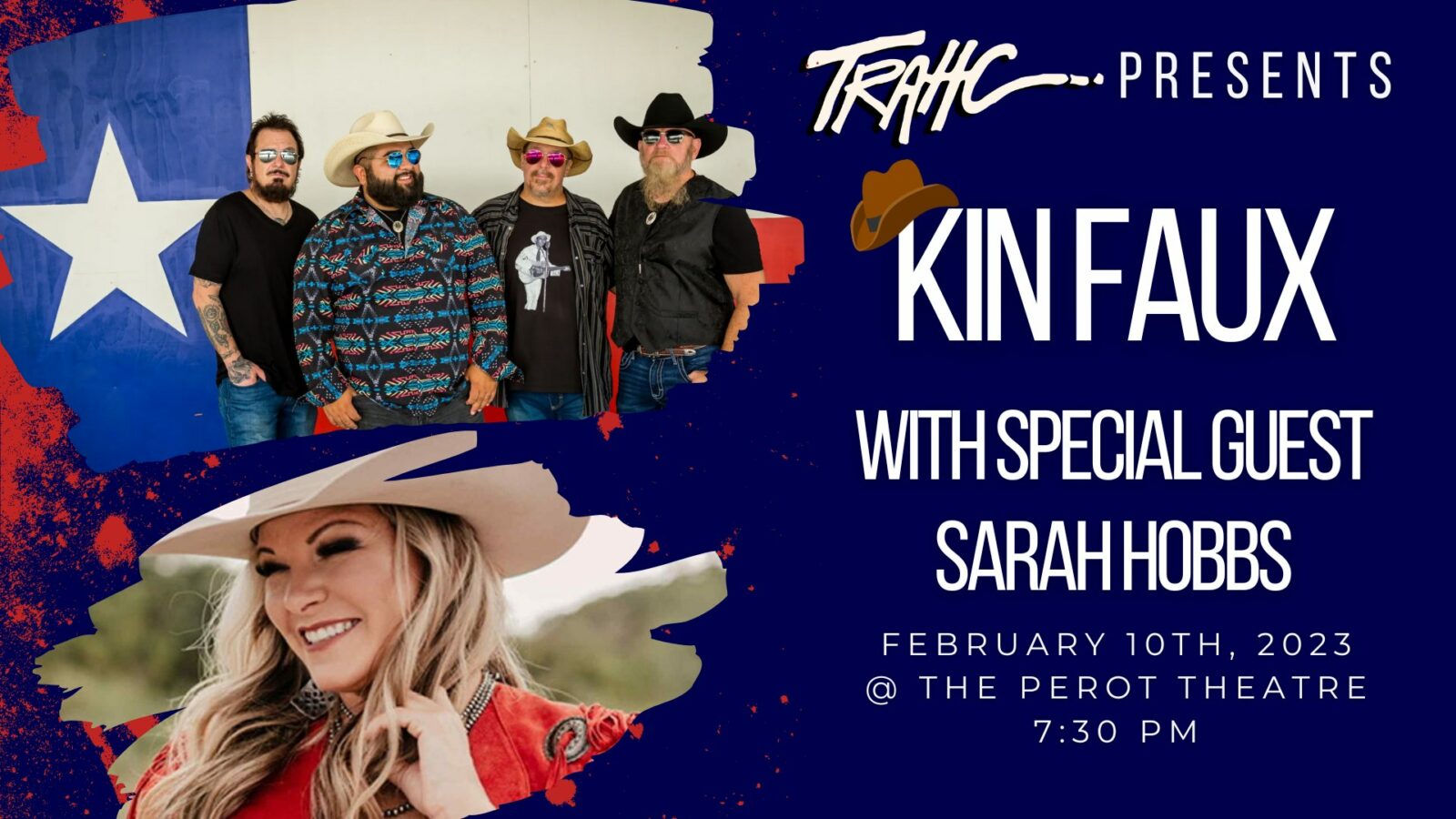 1. TRAHC presents Kin Faux @ the Perot
Friday, February 10
What's more red-dirt than the sandy banks of the Red River? Just an up and coming country band called Kin Faux. Awarded Texas Regional Radio NEW Band of the Year 2022 and Texas country Music award's Single of the year 2022 "Wild horses", Kin Faux is coming to Texarkana for one night only with a special guest, Sarah Hobbs!

2. The Texarkana Repertory Company presents: The Play That Goes Wrong
February 10 – 12
Part Monty Python, part Sherlock Holmes, part Buster Keaton, and WHOLLY insane, The Play That Goes Wrong has been described as a "riotous explosion of comedy". This silly slapstick-filled production is sure to be a hit! Join us at the Stilwell Theatre on the Texarkana College campus this February for The Play That Goes Wrong! Visit here for tickets.


3. Ultimate Challenge Bull Riding
Saturday, February 11
Tickets are $25 for box seats, $20 Adult General Admission, $15 Child General Admission, and kids 3 and under are free. You can come to the box office for tickets anytime M-F 9am to 4pm. 870-773-2941 if you have any questions. Learn more!

4. Downtown Live
Saturday, February 11
Join us at The Gallery at 1894 to view art and talk with the talented artists here at The Gallery! Learn more.

5. Our Voices. Our Stories.
Saturday, February 11
Presented by the Texarkana Museum System, learn more!


AND DON'T FORGET
6. Dino-Light presented by TRAHC
Wednesday, February 8
TRAHC presents the 3rd installment of the Theater for Young Audiences season, Dino-Light! Dino-Light is a glow in the dark adventure! Follow the little dinosaur as he meets a world full of creatures that light up the darkness and teach him the true meaning of love! Join us on February 8th for a LightWire Theater production at the Perot theatre! Tickets are $10 and and can be purchased at the Perot Theatre box office the day of the show. If you have any questions or would like to make a group reservation, please contact Hannah at hannahr@trahc.org or 903-792-8681! Performance times: 9:30am & 12:30pm.

7. Four States Ag Expo
Thursday, February 9
Call 870-779-3609 for more information or you can call our office at 870-773-2941. Learn more!

8. Galentine's Day Ladies Brunch Fundraiser
Saturday, February 11
Texarkana Resources is excited to be hosting our first annual Galentine's Day Ladies Brunch Fundraiser. Mimosas, brunch, shopping, photos, coffee, friendship and more will be this wonderful Saturday morning. We will be featuring female vendors at this event: By the Gals-For the Gals. Grab your gal-pals and come support women of Texarkana and Texarkana Resources. Learn more!

9. Texarkana Meets Cupid – A Valentines Tale
Saturday, February 11
Dinner Theater for all in Love or Wish to be. A Comedy of Love. Playing Valentines Weekend, 2023 at the Banana Club, Texarkana, AR. Learn more!

10. 21st Annual Regional Celebration of African American Artists Exhibit: Ernest C. Withers Collection, Good Night, My Love
Through March 25
This photography exhibition features work from the iconic worldwide photojournalist, Ernest C. Withers, who recorded African American history in the segregated South for over sixty years. His vast collection contains some of the most significant Civil Rights Movement activities. Withers' ever-present three cameras captured moments of change, conflict, classic, community, bravery, courage, determination, innocence, inspiration, and love. With the added local representation from photographer Barbara Pitts Riley, and a High School Cell Phone photography competition, this exhibition details significant history lessons with glimpses of the past, present, and future. Learn more!
Register for Pitch It Texarkana
Do you have an authentic and innovative idea? Pitch It at Texarkana's Entrepreneurial competition! Learn more.
Celebrate Sesquicentennial All Year Long
Quarterly calendars and details for individual events will be announced on each of the platforms listed. Currently, the list of events planned by the committee include these events!

Live Music
All Week
Head over to the goTXK calendar to take a look at all of the live music happening this week!