Leadership Texarkana Class of 2022 Amtrak Project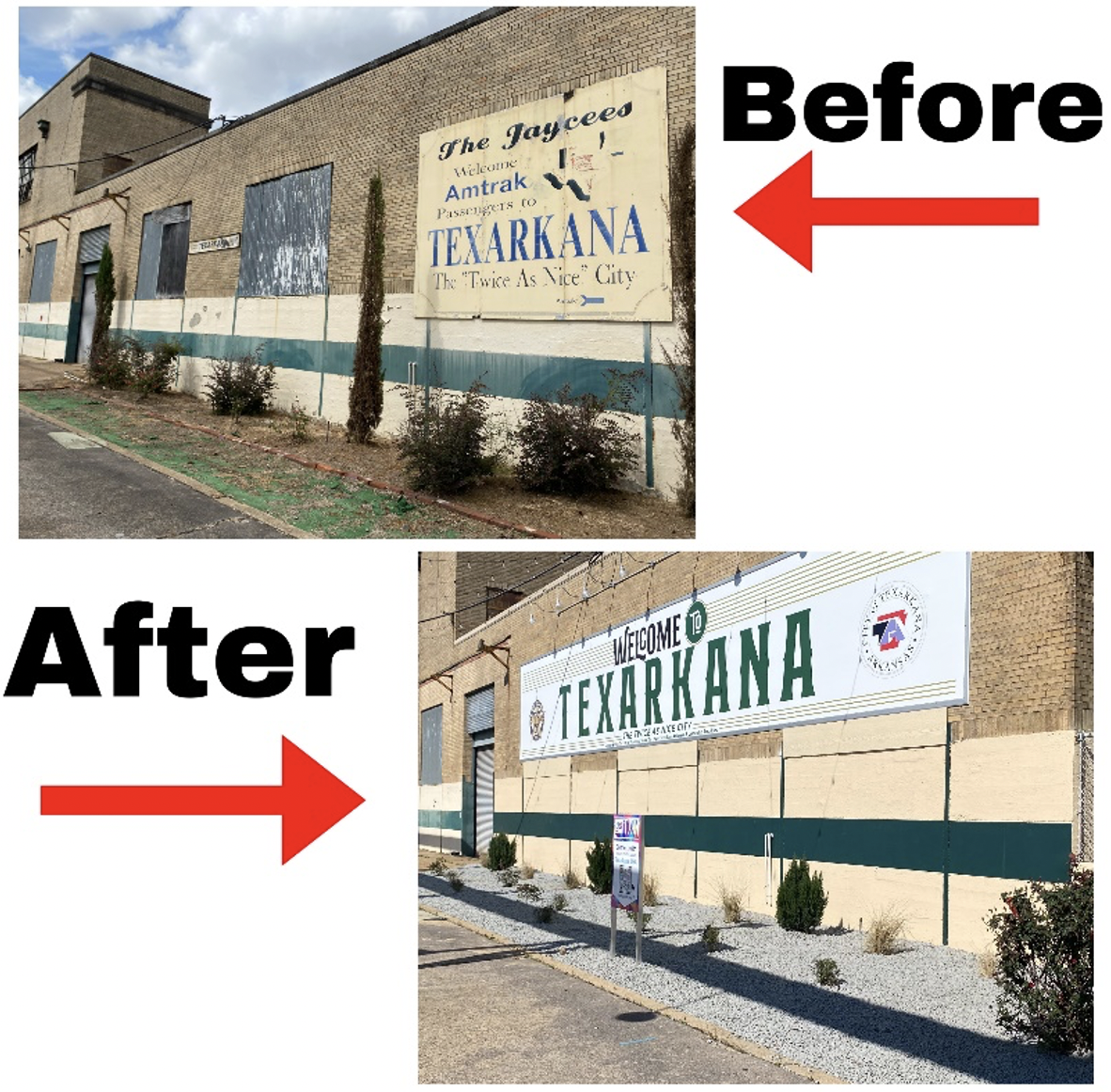 The Amtrak Beautification Project Team of the Leadership Texarkana Class of 2022 is pleased to announce the completion of their Strategic Doing project. The project, which began in the Fall of 2021, was originated to beautify the exterior and surrounding area of the station to provide a clean, bright, safe and enjoyable experience for all. The support of Texarkana businesses was instrumental in the execution of the team's plans. Financial donations as well as in-kind donations from businesses, Texarkana citizens and the two city governments have allowed for an exciting transformation.
 
The businesses and individuals who contributed include: Whatley Sign Company, Quintero Construction, Urban Lighting & Mechanical, Cox Exterior Design and Development, Parkerson Lawn and Landscape, Red River Softwash, Red River Lumber, TaMolly's, Brandon Choate & Sherwin Williams, R and L Power Washing, Josh Morriss, Don Morriss, Cheney and Mindi Pruett, Donald Carver Framing, Ruth Ellen Whitt, Logan Electric, H.E. Wright & Co., Artex Construction & Roofing, Commercial National Bank, Del Doughty, TAC, JH & Rosemary Russell, City of Texarkana Texas, City of Texarkana Arkansas.             
 
The final step in taking this project to the next level will be the installation of an awning over the railway platform to protect from the weather. H.E. Wright & Co. will donate the materials. Artex Construction & Roofing will do the installation.
 
Members of the Amtrak Station Exterior Beautification Team from the Leadership Class of 22 are: Val de la Garza, Vashil Fernandez, Toni Braley, Justin Copeland, John Moran, Del Doughty, Jennifer Smith, PGISD student member Tucker Keeney and Wendy Stotts.
 
THANKS and CONGRATULATIONS to ALL involved in executing this transformation to one of our community's key entry points! 
 
Please join us on Monday, March 27 at 5:00 p.m., at 100 East Front Street, for a celebration of this accomplishment and this beautiful new space in downtown Texarkana.